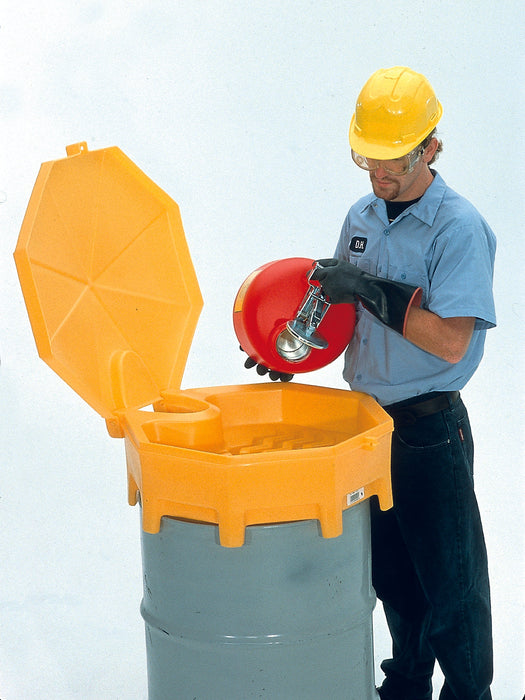 Ultra-Global Funnel Optional Snap-on Cover - Part #0498
Original price
$42.90
-
Original price
$42.90
Frequently Asked Questions
Fifty-five-gallon drums are not the same worldwide. The standard in North America is not the same as it is in Asia. We designed the Ultra-Global Funnel with its unique "locator feet" so that it would fit nearly every 55-gallon drum (or its international equivalent) in the world.
The Ultra-Global Funnel is made with low-density polyethylene (LLDPE) which provides excellent chemical resistance and will not rust or corrode.
A snap-on cover (p/n 0498) is available for the Ultra-Global Funnel. There is also a hinged model Ultra-Global Funnel (p/n 0499) for those who prefer a cover that stays attached and won't get lost or misplaced.
The hinged Ultra-Global Funnel can be locked with a standard padlock. The snap-on cover does not lock to the funnel. Please keep in mind that locking the hinged funnel locks only the cover down to the funnel, the funnel can still be lifted off of the drum.
The Ultra-Global Funnel is protected by our 5-year warranty. Find out more here.
The Ultra-Global Funnel sits on top of the drum (it does not screw into the bung) so it is not liquid-tight and will not prevent liquids from coming out of a tipped drum. The funnel can be used in conjunction with an accessory item such as the Ultra-Vapor Lock to accomplish a liquid-tight seal. A specifically modified funnel is necessary for this type of application. Please contact us for more information.
Yes, the Ultra-Global Funnel will work with both steel and poly drums.
More Info / Downloads
This product may not address any specific regulations but if you have any questions, we're here to help.
Additional Product Information
Uniform Product Codes (UPCs)
UPC 808416004977 Ultra-Global Funnel Ultra-Global Funnel (Part #0497)
UPC 808416004991 Ultra-Global Funnel Ultra-Global Funnel with Hinged Cover Model (Part #0499)
UPC 808416004984 Ultra-Global Funnel Optional Snap-on Cover (Part #0498)