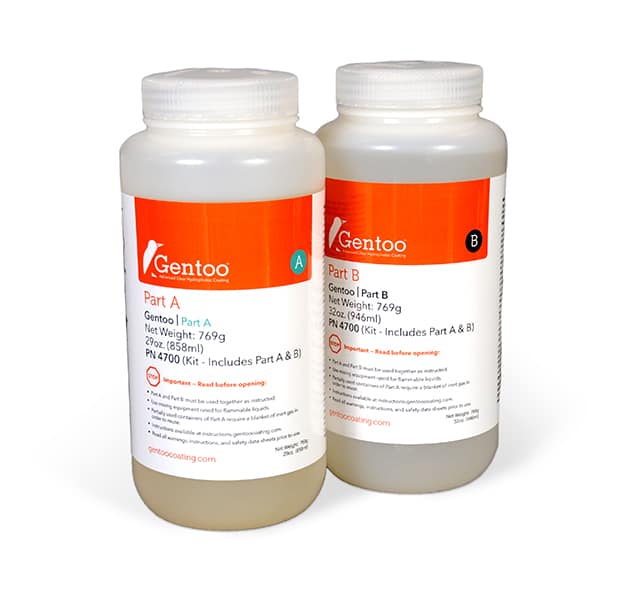 Gentoo Quart Kit - Part #4700
Original price
$379.50
-
Original price
$379.50
Frequently Asked Questions
It is named after an Antarctic species of penguin that repels water and oil off its feathered coat. It is NOT short for "generation two", as some have guessed.
After learning to apply Gentoo to standard surfaces, we recommend that Gentoo is applied to a small area(s) of the test surface for initial application-specific testing. Depending on the substrate, different surface preparation and curing methods could be tried, to see if they make a difference in the application-specific performance of Gentoo. See application instructions for more information.
Gentoo can be cured in an oven at 194°F (90 °C) for 1 hour. Alternatively, Gentoo can cure in ambient conditions for 24-48 hours. After application, Gentoo is dry to the touch within 10-15 minutes (for Gentoo applied to smooth surfaces). Gentoo coated items should not be oven cured until they have dried to the touch. After 24 hours of curing at ambient conditions, if it is found to meet the needs of the customer, it may be put into service. Performance may improve after multiple days of curing at ambient conditions.
Gentoo hydrophobic coating is very durable, so removing it can be difficult. In some cases, Gentoo can be removed using abrasive materials such as heavy-duty Scotch Brite™ (which contains aluminum oxide) or sandpaper. Pressure washing may also remove Gentoo, under certain circumstances. The only definitive way to remove Gentoo would be the use of a high pH/solvent mixture, as described below.
For small items, including glassware and lab tools, a chemical solution of 100% pure potassium hydroxide with 99% isopropyl alcohol may also be used. A recommended ratio is 1 lb (0.45 kg) of potassium hydroxide to 2-3 gallons (7.5-11 liters) of isopropyl alcohol. Items can be soaked in this highly reactive solution for several days in order to begin to remove the coating. A final wash with soap and water, and then water, is advised.
Note: These removal methods may damage the substrate and/or coating beneath the Gentoo coating. Appropriate safety precautions, including the use of proper personal protective equipment, must be taken when removing Gentoo from a surface.
The VOC content of Gentoo is relatively high, so appropriate engineering controls and PPE are necessary during application.
More Info / Downloads 
This product may not address any specific regulations but if you have any questions
Additional Product Information
Uniform Product Codes (UPCs)
UPC 808416047004

 

Gentoo Gentoo - Quart Kit (Part A and B) (Part #4700)