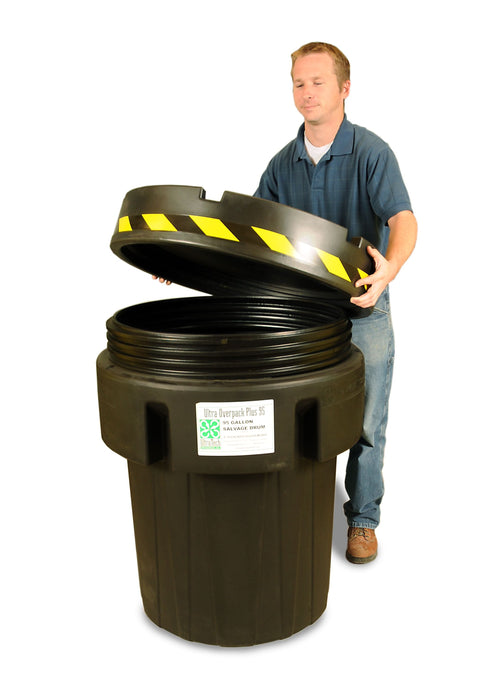 Overpack Plus Lid Only, 95, Black, Recycled
Original price
$91.30
-
Original price
$91.30
Frequently Asked Questions
Put simply, overpacks are used to protect non-leaking packages and salvage drums are used with leaking or defective containers.
Salvage drums look almost identical to overpacks, but they are stronger and meet even more stringent performance requirements than overpacks. When containers are placed in salvage drums, they must be surrounded with absorbents that are capable of soaking up any leaks that could occur during shipment.
Sometimes, a container is dual-rated as both an overpack and a salvage drum, and may be labeled as an "overpack salvage drum." When a container of this type is ready to be shipped, the inappropriate marking should be removed. For example, if it contains an intact container, the words "salvage drum" should be removed or indelibly covered. After that, the proper shipping name, orientation labels and the appropriate word – "overpack" or "salvage drum" – must be written or attached to the container.
The overpacks are made from low-density polyethylene.
The UN markings on Ultra-Overpack Salvage Drums can tell you things such as what type of hazmat can be shipped, the material the overpack is made of and the year and country of manufacture. For more information click here.
The slots in the overpack lids are designed to be used with 2×4 wooden beams. By sliding the 2×4 into those slots, it is much easier to apply torque on the lids to ensure that they are tightened the required amount. Please note that the use of a 2×4 is NOT required and lids can be tightened by hand.
More Info / Downloads
Helps Comply with These Rules & Regulations
DOT Salvage Drums, 49 CFR 173.3(c)
UN Packaging Group 2 (X-Rating)
EPA Hazardous Waste Discharges 40 CFR 263.30
Additional Product Information
Uniform Product Codes (UPCs)
UPC 808416005787

 

Ultra-Recycled Overpack 95 Ultra-Recycled Overpack 95 (Part #0578)