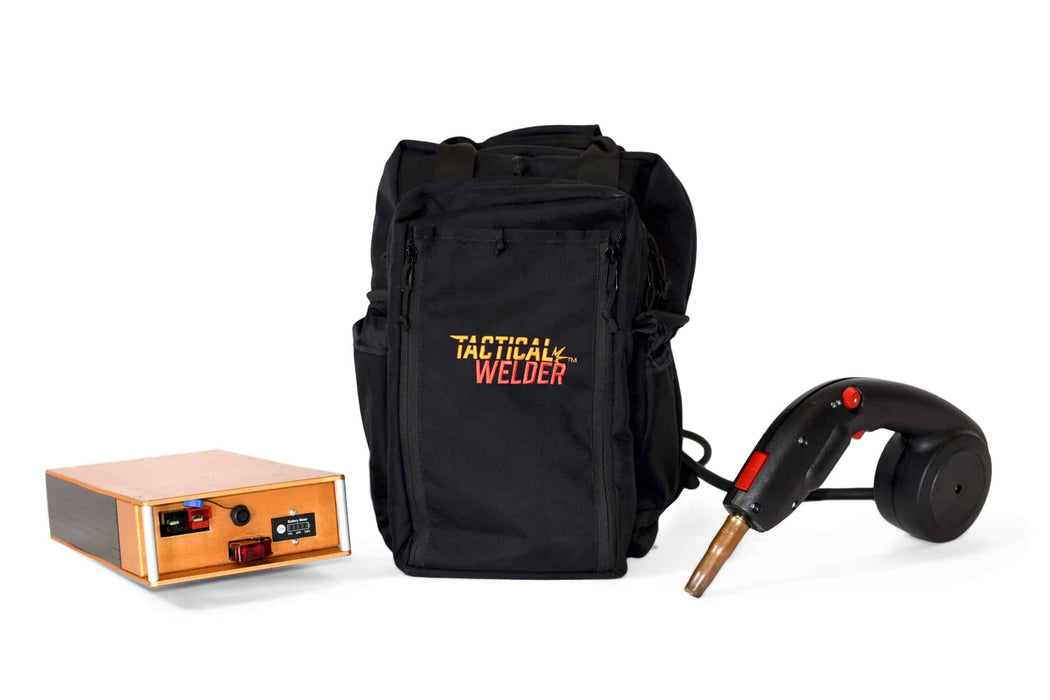 Tactical Welder
Original price
$449.10
-
Original price
$3,599.10
Tactical Welder
| Part # | Color | Size | Metric | Cat. Pg. | Tare Weight | UPS | Freight Class |
| --- | --- | --- | --- | --- | --- | --- | --- |
| 4800 | | | | 9 | 35 | Y | 70 |
| 4801 | | | | - | 28 | Y | 77.5 |
| 4803 | | | | - | 3.65 | Y | 70 |
Frequently Asked Questions
It holds about ½ kW of energy and 300 amps. It is 26.4 Volts.
The Welder is capable of MIG and flux core welding using a wire feed gun.
There is a one-year warranty on parts and labor. Please see the written warranty for full details.
A 15% fee is charged on all returns and a credit will be issued, provided: (a) the customer prepays the return freight cost*; (b) product is received in a clean, unused condition, able to be resold without extensive cleaning or repackaging; (c) the product is received at our designated location or the location indicated on the RMA 90 days or less from date the end-user received the product from UltraTech or its distributor; the product is shipped in its original packaging and shipped according to applicable shipping standards for the hazardous nature of the lithium-ion batteries. UltraTech reserves the right to refuse a return if any of these conditions are not met.
*IMPORTANT NOTE: Because of the size of the Tactical Welder's battery, it must be shipped in accordance with hazardous material (HAZMAT) regulations. Please contact us for more information on the requirements.
It can continuously weld for approximately 18 minutes. At a 30% duty cycle, the Welder can weld for approximately 54 minutes. The Welder's gun holds a 2 lb spool of wire. The Welder has shown to be able to weld 1 lb of 0.035 wire on a single charge. The actual amount of weld or wire used is dependent on a number of factors. Results may vary.
The Tactical Welder includes a Battery Management System (includes the batteries), a welding wire feed gun (variable speed), a 300A ground clamp, a 7A, 120/240 V battery recharger, and a custom backpack.
The Welder can use wire from 0.030" to 0.052".
From 1/8" to 1/2" (3.2 mm to 12.7 mm).
From full discharge, the battery pack takes approximately 2.5 hours to charge fully. From partial discharge, it takes approximately 1 to 1.3 hours.
The BMS monitors discharge and re-charge of each cell and controls the power and heat during working cycles. If the temperature of the cells gets too high, the BMS is capable of cutting the power off to protect the battery.
Yes, Battery Packs can be purchased separately to provide a back-up.
The complete system (including the backpack) weighs 27 lbs.
Yes, but thinner aluminum could be burned through if the user is not adept at welding aluminum.
Yes, as well as some other features to promote maximum safety.
The leads are six feet in length.
Yes, there is a tube in the gun for connecting to an inert gas. To allow a gas bottle to fit into the backpack with the welder, we recommend using a "paintball" size gas cylinder.
No, it should not be submerged in water for any reason.
The Tactical Welder cannot TIG or stick weld.
Please refer to our consumables listing for the recommended wire for use with the Tactical Welder.
More Info / Downloads
This product may not address any specific regulations but if you have any questions, we're here to help.
Helps Comply with These Rules & Regulations
This product may not address any specific regulations but if you have any questions, we're here to help.
Additional Product Information
Uniform Product Codes (UPCs)
UPC 808416048001

 

Tactical Welder Portable Welding System (Part #4800)
UPC 808416101300

 

4803 - Amperage Controller for Tactical Welder Amperage Controller for Tactical Welder (Part #4803)