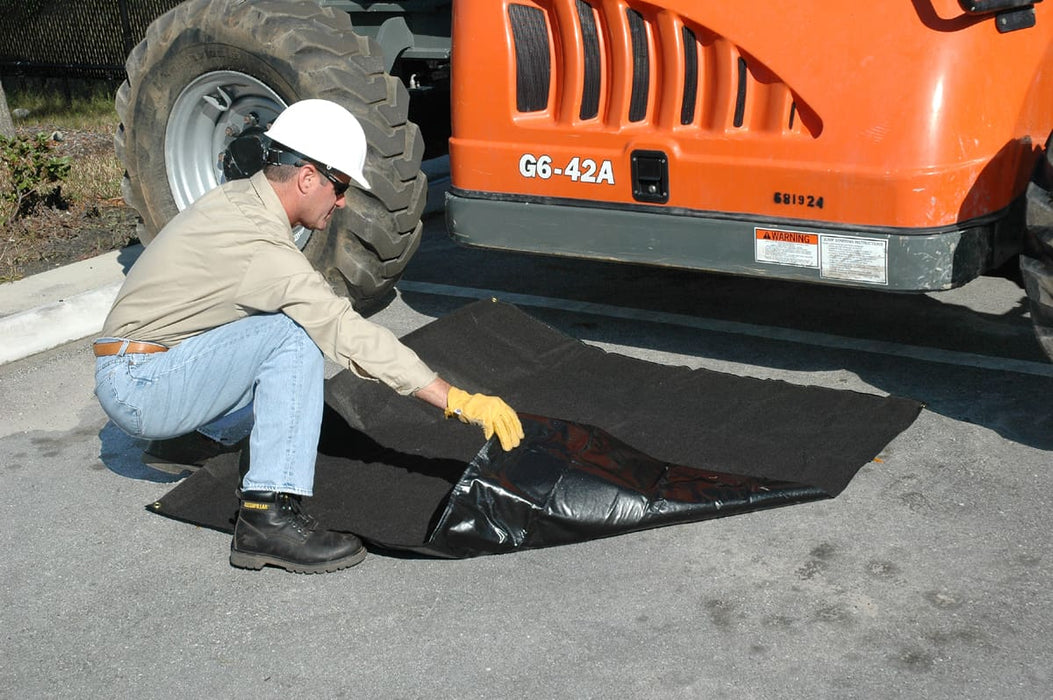 Ultra-Absorbent Tarp - Part #8306
Original price
$331.10
-
Original price
$331.10
Frequently Asked Questions
The absorbent tarps absorb .12 gallons per square foot. So the two standard sizes: 5′ x 5′ and 10′ x 10′ absorb 3.0 gallons (11L) and 12.0 gallons (45L) respectively.
When new/unused, the 5′ x 5′ absorbent tarps weigh only 3 lbs. (1.5 Kg) and the 10′ x 10′ absorbent tarps weight only 12 lbs. (5.5 Kg) so they are very easily transported.
The Ultra-Absorbent Tarp is made with three layers to make it more effective. Each layer has a different "responsibility":
The top layer is a UV resistant geotextile fabric which allows oils to pass through.
The middle layer is an absorbent core. It is made of an oil-only polypropylene that traps oils but allows stormwater to evaporate.
The bottom layer is an impermeable backing that keeps drips from leaching through to the ground or shop floor.
We're working to gather supporting documents and links for this product. In the meantime, we're here to help if you have any questions.
This product may not address any specific regulations but if you have any questions, we're here to help.
Additional Product Information
Uniform Product Codes (UPCs)
UPC 808416083064

 

Ultra-Absorbent Tarp (Part #8306)