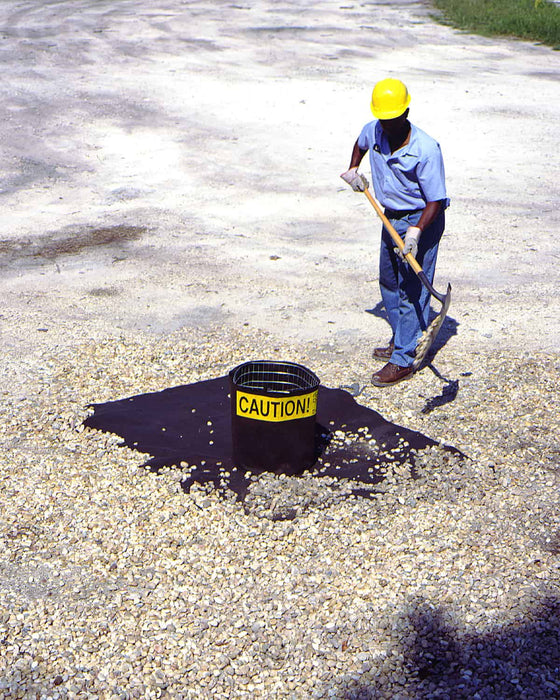 Ultra-Basin Guard Oil & Sediment - Part #9293-OS
Original price
$167.40
-
Original price
$167.40
Frequently Asked Questions
The distinction that the Ultra-Basin Guard has from other products is its tall profile. Needless to say, a drain protection product that sits 18″ above the grate is not suitable for many applications. But in some situations (usually construction-related), it is advantageous.
The geotextile material used for the Ultra-Basin Guard is the same as we use in the Ultra-Drain Guard and other stormwater products so the oil/silt/sediment containment capacities are the same. But the taller profile provides additional "above the drain" filtering as well as a quick visual identifier of the storm drain's location.
It depends. Part# 9292-O/S requires that you lift the grate, put the Ultra-Basin Guard over the catch basin and then replace the grate. However, Part# 9293-O/S does NOT require the removal of the grate and is held in place using gravel, rocks or some other aggregate.
If the unit has only been used to remove dirt, sand, and sediment from the incoming stormwater flow, it can be disposed of like any other trash/waste. If oil/grease or any other hydrocarbons have been absorbed by the geotextile material, it must be disposed of in accordance with local regulations and requirements.
As mentioned above, the Ultra-Basin Guard is fairly unique if a taller profile is a required feature. However, the Ultra-Filter Socks could be a possible alternative. The Path to the Perfect Product can help in finding the best solution for your specific application.
Yes, the needle-punched geotextile material used, can absorb synthetic oils.
This product may not address any specific regulations but if you have any questions, we're here to help.
Stormwater Management Regulation 40 CFR 122.26
National Pollutant Discharge Elimination System (NPDES)
Total Maximum Daily Load (TMDL)
Additional Product Information
Uniform Product Codes (UPCs)
UPC 808416092936 Ultra-Basin Guard Oil & Sediment (Part #9293OS)