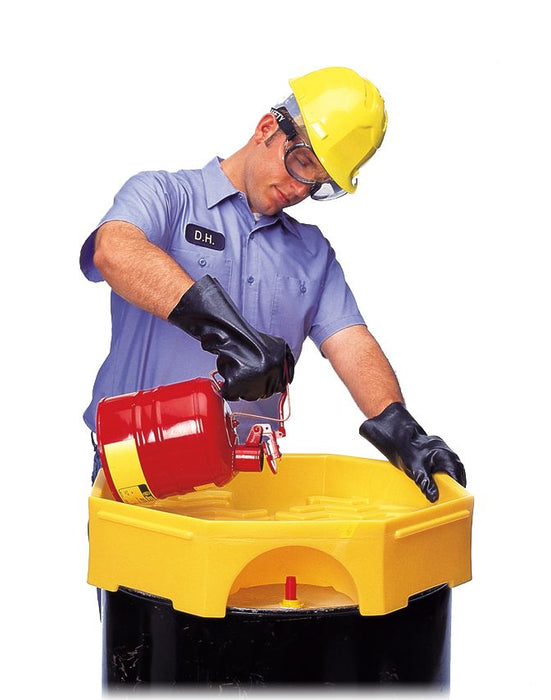 Ultra-Bung Access Funnel Bung Access Funnel No Spout- Part #0488
Original price
$64.90
-
Original price
$64.90
Frequently Asked Questions
"Bung access" in the name of this funnel refers to the fact that even though it is a drum top funnel that completely covers the top of the drum and provides a huge pouring target, the unique half-moon cutout allows visual access to the 3/4″ bung.
The Ultra-Funnel is made from low-density polyethylene.
The scalloped design inside of the funnel has a two-fold purpose. First, it provides a flat/level surface for containers to sit on. Leaky/drippy containers will have any leaking material funneled back into the drum. Containers can also be turned upside down so they can passively drain into the drum. Secondly, the scalloped design prevents poured liquids from splashing back where it can be hazardous to exposed skin, face and eyes.
There are two different cover options. A snap-on cover is available and simply "snaps on" to the standard funnel. A hinged cover is also available for those that prefer a cover that is physically secured to the funnel.
Yes, but it requires a specific version of the funnel. Please contact us for more information.
Yes, the funnel is covered by UltraTech's industry-leading 5-year warranty. Click here for more information.
The funnel has a recessed ring for use with a 55-gallon drum and another recessed ring for use with a 30-gallon drum. While the rings don't physically lock the funnel in place they prevent it from sliding around or falling off.
Yes, the funnel is designed to work with 55-gallon and 30-gallon drums.
More Info / Downloads
This product may not address any specific regulations but if you have any questions, we're here to help.
Additional Product Information
Uniform Product Codes (UPCs)
UPC 808416004823

 

Ultra-Bung Access Funnel Bung Access Funnel (Part #0482)
UPC 808416004854

 

Ultra-Bung Access Funnel Snap-On Cover (Part #0485)
UPC 808416099850

 

Pop Up Fill Gauge Pop Up Fill Gauge for 3/4" Bung (Part #9985)