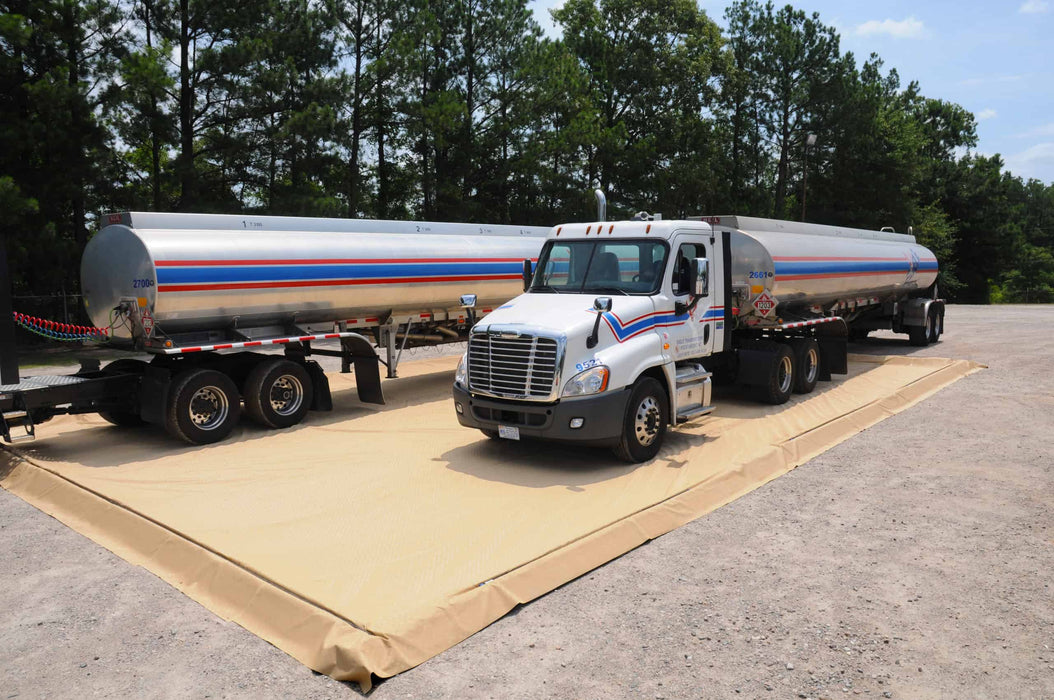 Ultra-Containment Berm - Modular Model
Original price
$159.30
-
Original price
$19,656.90
Ultra-Containment Berm - Modular Model
| Part # | Color | Size | Metric | Cat. Pg. | Tare Weight | UPS | Freight Class |
| --- | --- | --- | --- | --- | --- | --- | --- |
| 8740 | Tan | 7 x 13 | | 39 | 190 | N | 250 |
| 8741 | Tan | 13 x 13 | | 39 | 246 | N | 250 |
| 8742 | Tan | 13 x 25 | | 39 | 359 | N | 250 |
| 8743 | Tan | 13 x 31 | | 39 | 415 | N | 250 |
| 8744 | Tan | 13 x 43 | | 39 | 523 | N | 175 |
| 8745 | Tan | 13 x 55 | | 39 | 640 | N | 250 |
| 8746 | Tan | 13 x 61 | | 39 | 695 | N | 250 |
| 8747 | Tan | 25 x 55 | | 39 | 838 | N | 250 |
| 8748 | Tan | 31 x 55 | | 39 | 935 | N | 250 |
| 8749 | Tan | 55 x 55 | | 39 | 1028 | N | 175 |
| 8750 | Tan | | | | 32 | Y | 85 |
| 8751 | Tan | | | | 73 | Y | 65 |
| 8752 | Tan | | | | 94 | Y | 85 |
| 8753 | Tan | | | | 125 | N | 100 |
| 8754 | Tan | | | | 178 | N | 175 |
| 8755 | Tan | | | | 198 | N | 175 |
| 8756 | Tan | | | | 219 | N | 175 |
| 8757 | Tan | | | | 297 | N | 125 |
| 8758 | Tan | | | | 375 | N | 100 |
| 8759 | Tan | | | | 610 | N | 70 |
| 8730 | Black | 6' | 1829 mm | | 19 | N | 175 |
| 8731 | Black | 2' X 2' | 609 X 609 mm | | 9 | Y | 60 |
Frequently Asked Questions
The triangular-shaped support blocks are polymer-coated foam and are 72"L x 16"W x 6"H
There are a number of complete Gorilla Berm systems available (includes all support blocks, four support block corners, and a liner) ranging in size from 7′ x 13′ to 55′ x 55′. If the size of your spill containment area isn't one of the sizes listed, please contact us and we can help you determine how many / what size of each component is needed.
We recommend using #9 rebar (1" dia.) to secure the liner to the support block structure.
A heavy-duty, 22oz., anti-skid, coated vinyl fabric (PVC) is the standard. Please contact us for availability of other materials.
Yes, all components (support blocks, support block corners, liners) are available separately.
Yes, the Ultra-Containment Berm, Modular Model uses support blocks specifically designed for the corners of the containment area.
The liner is PVC and is compatible with a wide range of chemicals. For specific chemical information, please refer to our chemical compatibility guide.
More Info / Downloads
Helps Comply with These Rules & Regulations
EPA Container Storage Regulation 40 CFR 264.175
Spill Prevention, Control and Countermeasure Act (SPCC) 40 CFR 112