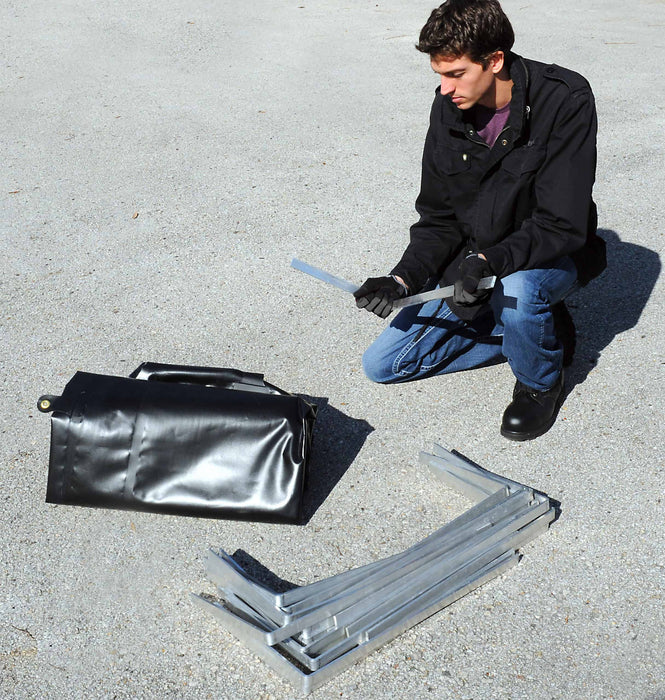 Ultra-Containment Sump Flexible Model - Part #2855
Original price
$1,761.10
-
Original price
$1,761.10
Frequently Asked Questions
The standard Ultra-Containment Sump is an excellent product and is very effective. However, shipping costs are considerably more for those than for the flexible models. Since the flexible models can be disassembled and folded they take up much less room and therefore are significantly more economical to ship.
The standard material of construction is 18 oz. PVC. The support brackets are made from aluminum.
The PVC material that chemical spills would come in contact with has excellent compatibility. A complete list can be found in our chemical compatibility guide.
Aluminum L-brackets can be purchased separately if they are damaged or misplaced. Please contact us for more information.
More Info / Downloads
Helps Comply with These Rules & Regulations
EPA Container Storage Regulation 40 CFR 264.175

Stormwater Management Regulation 40 CFR 122.26

International Fire Code (IF) 5004.2.3
Additional Product Information
Uniform Product Codes (UPCs)
UPC 808416028508

 

Ultra-Containment Sump 275 Flexible Model Without Drain (Part #2850)
UPC 808416028515

 

Ultra-Containment Sump 275 Flexible Model With Drain (Part #2851)
UPC 808416028522

 

Ultra-Containment Sump 550 Flexible Model Without Drain (Part #2852)
UPC 808416028539

 

Ultra-Containment Sump 550 Flexible Model With Drain (Part #2853)
UPC 808416028546

 

Ultra-Containment Sump 1000 Flexible Model Without Drain (Part #2854)
UPC 808416028553

 

Ultra-Containment Sump 1000 Flexible Model With Drain (Part #2855)