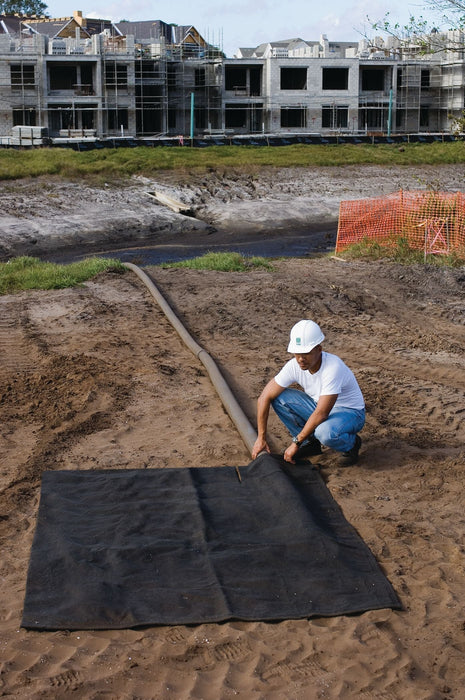 Ultra-Dewatering Bags Oil & Sediment Model - Part #9727-OS
Original price
$229.90
-
Original price
$229.90
Frequently Asked Questions
The total flow rate through the Ultra-Dewatering Bag can be maximized by getting it off the ground. While water will flow through a dewatering bag laying flat on the ground, it will be impeded by the solid/saturated soil it is on. By placing the bag on large aggregate or on hay bales, the water will be less restricted as it flows through the bottom layer of geotextile fabric.
The maximum flow rate of the Ultra-Dewatering Bags, when new, is 500 gallons/min. For more information, check out our specifications.
When the Ultra-Dewatering Bag is full, it should be disposed of as directed by the site engineer and in accordance with any local regulations and requirements. Often times, it can simply be cut open and the contents dispersed.
Yes, we can do custom sizes (and shapes). Please contact us for a quote.
If your flow rate is not too high, you can use the attached straps to tie off the bag to the hose. If water is being discharged at a higher flow rate, a hose clamp may be required (not included). You can also use our optional hose connector (Part# 9739) to make the connection quick and easy.
More Info / Downloads
This product may not address any specific regulations but if you have any questions, we're here to help.
Stormwater Management Regulation 40 CFR 122.26
Additional Product Information
Uniform Product Codes (UPCs)
UPC 808416097283

 

Ultra-Dewatering Bag Oil & Sediment Model (Part #9729-OS)
UPC 808416097269

 

Ultra-Dewatering Bag Oil & Sediment Model (Part #9724-OS)
UPC 808416097238

 

Ultra-Dewatering Bag Oil & Sediment Model (Part #9723-OS)
UPC 808416097252

 

Ultra-Dewatering Bag Oil & Sediment Model (Part #9725-OS)
UPC 808416005615

 

Ultra-Dewatering Bag Oil & Sediment Model (Part #9727-OS)
UPC 808416097399

 

Ultra- Dewatering Bag Hose Connector (Part #9739)