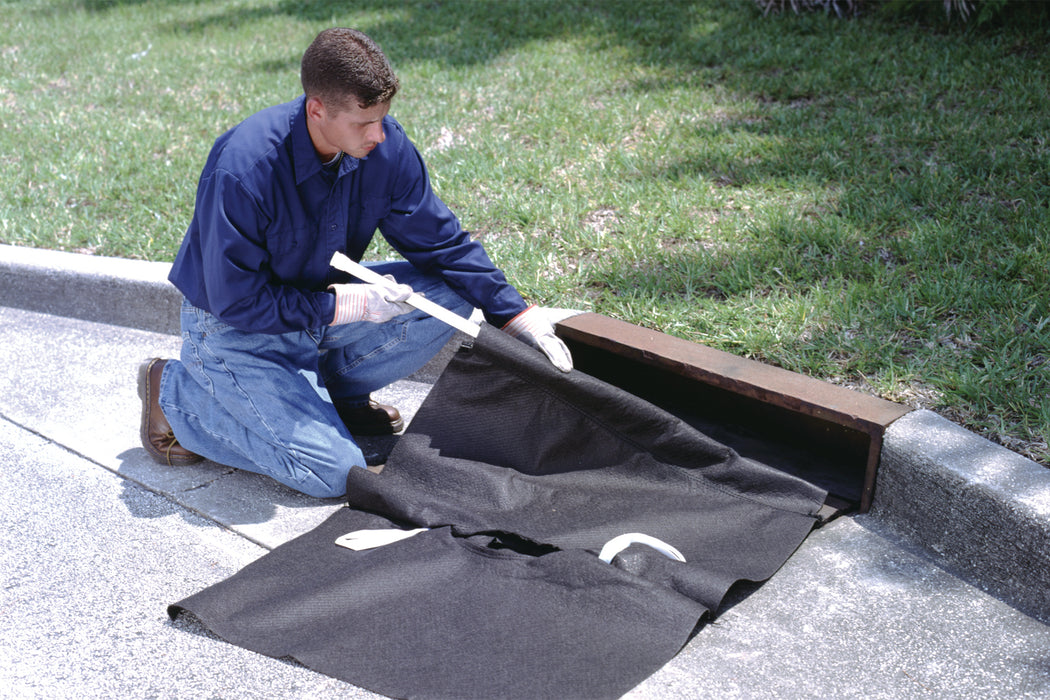 Ultra-Drain Guard - Curb Insert Style
Original price
$94.50
-
Original price
$110.70
Ultra-Drain Guard - Curb Insert Style
| Part # | Color | Size | Metric | Cat. Pg. | Tare Weight | UPS | Freight Class |
| --- | --- | --- | --- | --- | --- | --- | --- |
| 9230 | | | 610 - 1067 | 63 | 2 | Y | 125 |
| 9231 | | | 1067 - 1524 | 63 | 3 | Y | 125 |
| 9239 | | | 610 - 1067 | 63 | 3 | Y | 125 |
| 9240 | | | 1067 - 1524 | 63 | 4 | Y | 125 |
Frequently Asked Questions
It is difficult to arrive at a definitive answer for this as there are several factors that will determine how long an Ultra-Drain Guard will last after it has been installed. The amount of rainfall and the amount and type of pollutants that the unit will be exposed to, among other things will determine the Ultra-Drain Guard's life expectancy. For this reason, we recommend inspecting the unit after each significant rain event to better understand how much each Ultra-Drain Guard will capture. We have had test units in Seattle as well as Florida that were still working effectively after more than a year after installation.
Yes. While we do have some stormwater products that do not require the grate to be lifted, the Ultra-Drain Guard, Curb-Insert Style does require that you first lift the grate.
If the unit has only been used to remove dirt, sand, and sediment from the incoming stormwater flow, it can be disposed of like any other trash/waste. If oil/grease or any other hydrocarbons have been absorbed by the geotextile material, it must be disposed of in accordance with local regulations and requirements.
When new, the Ultra-Drain Guard has a flow rate of 90 gpm/ft2. However, the unit has been designed with overflow ports. These allow the Ultra-Drain Guard a flow rate of 770 gpm which will prevent any flooding or ponding during extreme rain events. Any water that goes through the overflow is essentially untreated.
While the needle-punched geotextile material used, can absorb synthetic oils, the X-Tex material is designed for the absorption of hydrocarbons and will not absorb synthetics.
Yes, under most circumstances. If the Ultra-Drain Guard is filled with sand, silt, and sediment, it can be removed from the drain, emptied out and replaced. Trash and debris can also be removed. The exception is if the Ultra-Drain Guard is saturated with oil, gas or other hydrocarbons. Because these pollutants can be flushed out of the Ultra-Drain Guard by a major rain event, it is recommended that the units be replaced instead of reused.
Ultra-X-Tex (used only in the "Plus" Models) removes oil and other hydrocarbons much faster than traditional absorbents. A polypropylene sorbent material will not allow water to freely pass through it. Oil will absorb at the surface of a polypropylene absorbent, and the polypropylene will eventually blind over and the center will not absorb any oil.
Yes, you will receive everything you need including the hardware (tension rods). No other parts, pieces or components will be necessary to install/use your Ultra-Drain Guard.
More Info / Downloads
This product may not address any specific regulations but if you have any questions, we're here to help.
Stormwater Management Regulation 40 CFR 122.26
National Pollutant Discharge Elimination System (NPDES)
Total Maximum Daily Load (TMDL)
Additional Product Information
Uniform Product Codes (UPCs)
UPC 808416092301

 

Ultra-Drain Guard Oil & Sediment, Curb-Insert Model (Part #9230)
UPC 808416092318

 

Ultra-Drain Guard Oil & Sediment, Curb-Insert Model (Part #9231)
UPC 808416092394

 

Ultra-Drain Guard Plus Oil & Sediment Plus, Curb-Insert Model (Part #9239)
UPC 808416092400

 

Ultra-Drain Guard Plus Oil & Sediment Plus, Curb-Insert Model (Part #9240)