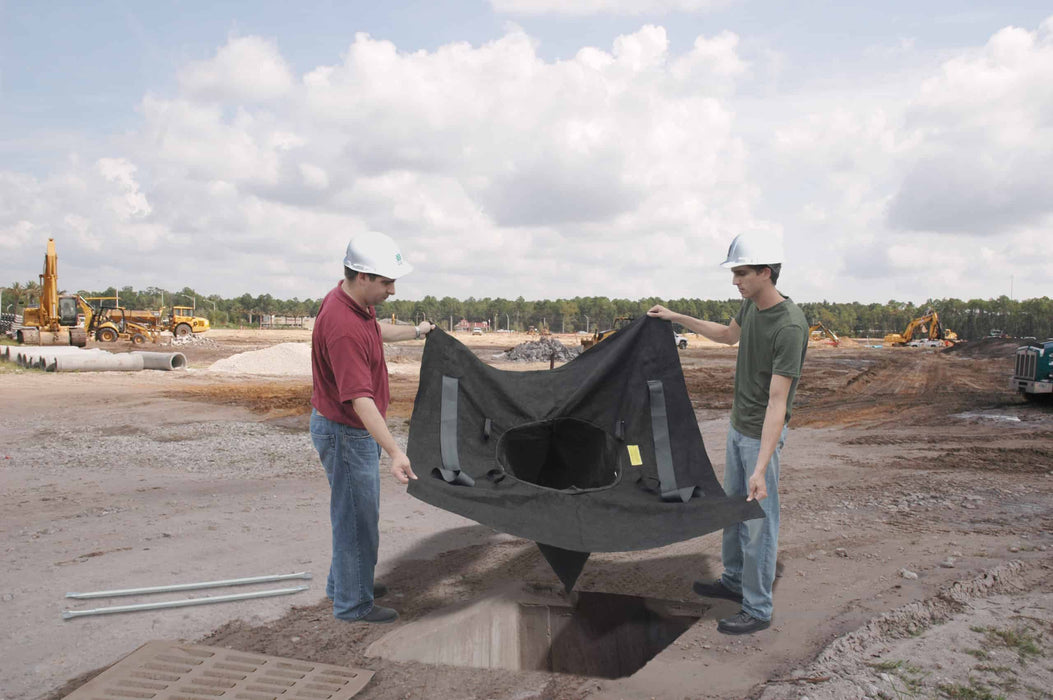 Ultra-Drain Guard High Capacity Model - Part #9393
Original price
$139.70
-
Original price
$139.70
Frequently Asked Questions
The dimensions of the high capacity are 60″x 60″ x 35″
The dimensions of the standard are 48″ x 36″ x 18″
Capacities of the high capacity – Oil absorption: 1.9 gallons.  Max sediment load: 300 lbs.
Capacities of the standard – Oil absorption: 0.87 gallons.  Max sediment load: 40 lbs.
Yes, the needle-punched geotextile material used, can absorb synthetic oils.
The retainer bars are an option and are not required for installation or use of the Ultra-Drain Guard. They are helpful when installing and removing the Ultra-Drain Guard as they will keep the unit in place whenever the grate is being lifted or put into place.
The Ultra-Drain Guard is held in place by the grate on top of the catch basin. So steps must be taken before lifting the grate to remove the Ultra-Drain Guard or it will fall to the bottom of the basin once the grate is lifted. By using the retainer bars and placing them through the handling straps you can prevent the Ultra-Drain Guard from dropping when the grate is lifted.
The Ultra-Drain Guard, High Capacity Model can be used for drains up to 54″ x 54″ (Keep in mind that the standard drain guard works with drains up 30″ x 40″). Excess skirt material can be left in place and will actually act as a "pre-filter". If a neater appearance is desired, excess material can be removed by cutting it with a heavy-duty pair of scissors or a utility knife.
Those are lifting straps and help in removing a full Ultra-Drain Guard from the catch basin. Note: The Ultra-Drain Guard, High Capacity Model can hold up to 300 lbs. Caution should be taken when removing it. Larger/heavier loads may require backhoes, forklifts or other equipment for removal.
More Info / Downloads
This product may not address any specific regulations but if you have any questions, we're here to help.
Stormwater Management Regulation 40 CFR 122.26
National Pollutant Discharge Elimination System (NPDES)
Total Maximum Daily Load (TMDL)
Additional Product Information
Uniform Product Codes (UPCs)
UPC 808416093933

 

Ultra-Drain Guard High Capacity Model (Part #9393)