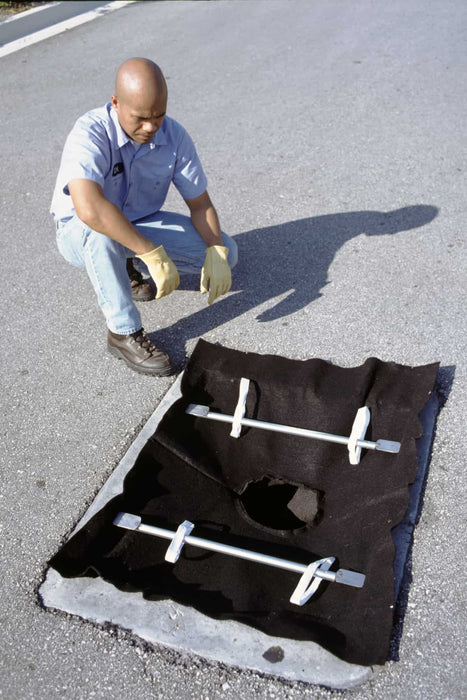 Ultra-Drain Guard Retainers Coated Steel - Part #9237
Original price
$60.50
-
Original price
$60.50
Frequently Asked Questions
"Need" is a relative term. Retainers are not requiredfor using/installing any of UltraTech's Drain Guards. But they can make thing a lot easier.
The majority of Drain Guards are held in place by pinching the fabric (of the Drain Guard) between the catch basin ledge and the grating on top of the basin. That makes the initial installation quick and easy since there are no extra components needed. However, it can present a challenge when it's time to remove the Drain Guard. If you don't plan/think ahead, the Drain Guard will drop straight to the bottom of the catch basin as soon as the grating is lifted.
The retainers help avoid a solution for this. By utilizing the lifting straps built into every Ultra-Drain Guard, the retainers will keep the Drain Guard at street level whether the grate is in place or not.
Any drains that don't fit within the two ranges (22″ – 36″ and 36″ – 62″) will, of course, NOT work with the retainers. It's always a good idea, if possible/practical to lift the grating off and taking a look at the catch basin ledge as well as the bottom of the grating before you purchase the retainers.
Some catch basins only have a ledge on two sides of the opening instead of on all four sides. Also, depending on the location and weight capacity, the grating may have a large support rib underneath. Depending on the size and shape of that rib, it may prevent the use of the retainers.
The two sections that make up the retainer fit inside each other and slide freely. So the size can be adjusted very precisely. There are no notches, holes, pins or other adjustment devices that would preclude the "perfect" fit.
More Info / Downloads
This product may not address any specific regulations but if you have any questions, we're here to help.
Stormwater Management Regulation 40 CFR 122.26
National Pollutant Discharge Elimination System (NPDES)
Total Maximum Daily Load (TMDL)
Additional Product Information
Uniform Product Codes (UPCs)
UPC 808416092370

 

Ultra-Drain Guard Retainers Coated Steel (Part #9237)
UPC 808416092387

 

Ultra-Drain Guard Retainers Coated Steel (Part #9238)