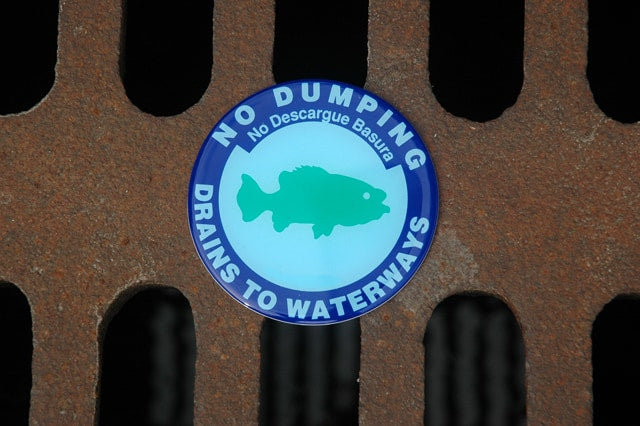 Ultra-Drain Marker Kit - Part #9208
Original price
$158.40
-
Original price
$158.40
Frequently Asked Questions
Durability, appearance, convenience, safety. The benefits of permanent marking with the Ultra-Drain Marker® are numerous:
It makes re-marking unnecessary for years. Many companies locate and re-mark facilities annually with spray paint. Think of the savings in labor and paint.
It presents a uniform and neat public appearance (unlike spray paint) thereby eliminating complaints about "graffiti".
It is environmentally friendly, unlike spray paint. Spray paint can contribute to non-point source pollution.
It helps to prevent damage to equipment by alerting potential excavators to the presence and location of buried equipment.
It aids in location for routine maintenance, construction, and emergency access
Our markers are less expensive than brass or ceramic or thermal plastic, won't crack and crumble (ceramic), won't bend exposing sharp edges (aluminum), won't tarnish (brass), and have no scrap value (brass & aluminum). They have brilliant graphics tested for UV resistance and are available in non-reflective or reflective in just about any size, shape, or color imaginable.
Our marking system is easy to use, requiring no special tools like torches (thermal-plastic), tamping machines (pressure-sensitive tapes), drills or hardware (aluminum & brass), or special surface preparation (pressure-sensitive tapes).
There are a variety of applications. The Ultra-Drain Marker can be applied to virtually any flat, dry, non-soil surface using the included adhesive. It can be affixed permanently to curbs (face or top), road shoulders, sidewalks, manhole/valve covers, concrete, metal or wooden poles, inside manholes, the list goes on.
There is no simple answer. We have customers using our markers on utility patches on roads in Virginia, on curb faces in Minnesota, and sidewalks in Florida. Because of the wide variety of applications and weather conditions, there is no simple answer. UV degradation is the key factor. We have independent test data as well as our own available for your review.
Abrasion is the other factor that determines longevity. Vehicular/pedestrian traffic, street sweepers, salt, chemical exposure and a variety of environmental elements can have an effect.
Our marker offers both increased UV protection and abrasion resistance.
They require a hammer and chisel for removal.   When fully cured the adhesive forms a permanent bond between the marker and application surface. We have test samples in place with no loss of adhesion after more than 15 years. We also have test samples on roadways, purposely placed in the tire path, that are still in place after more than 8 years.
By comparison, others offer:
Thermal-Plastic tape which requires a propane torch for installation. This system is not exactly "user-friendly" and requires great care in application. Too little heat and it won't stick. Too much heat and you end up with a graphic that is an illegible blob.
Pressure-sensitive lane tape which requires a surface primer and a tamping machine. Without appropriate pressure, it will lose adhesion and separate from the application surface in a short period of time.
Aluminum or Ceramic markers which offer no proven compatible adhesive (customer has to provide) or some aluminum and brass "systems" that require diamond-tipped drill bits for making holes and hardware for mounting.
The Ultra-Drain Marker adhesive comes in a 5-ounce squeeze tube. Our adhesives have been tested and used under a wide variety of conditions since 1983 and offer the perfect combination of long-term durability and ease of use.
Our customers experience little loss from these hazards. Our tests and testimonials from our customers indicate little to no damage from street sweepers. A snowplow would be capable of scraping off an Ultra-Drain Marker. However, the Ultra-Drain Marker has been used extensively in snow belt areas and our customers report very little to no actual loss. A determined vandal can remove the Ultra-Drain Marker. Although in over 19 years, we've received very few reports of actual occurrences exceeding 1-2%. The benefits of permanent marking with the Ultra-Drain Marker far outweigh the risk of occasional loss or damage to the marker due to any of the above factors.
The surface must be clean, dry and free of any loose debris or else the Ultra-Drain Marker may not adhere properly. Typically, cleaning the surface with a wire brush is sufficient.
Yes, each kit comes with 25 markers AND the adhesive.
The adhesive will skin over in 1-hour, become hard to the touch in 4 hours, and achieve a full cure in 18 hours.
Yes, you can get your own colors, design and text to make your Ultra-Drain Markers more applicable to your location. Minimums apply. Please contact us for more information.
More Info / Downloads
This product may not address any specific regulations but if you have any questions, we're here to help.
Stormwater Management Regulation 40 CFR 122.26

National Pollutant Discharge Elimination System (NPDES)
Additional Product Information
Uniform Product Codes (UPCs)
UPC 808416092080 Ultra Drain Marker Kit Kit - 25 pcs., Adhesive (Part #9208)