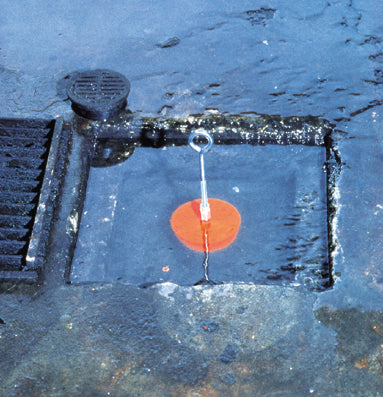 Ultra-Drain Plug - Part #2116
Original price
$308.00
-
Original price
$308.00
Frequently Asked Questions
The eyebolt helps in installing the Ultra-Drain Plug. It provides extra length and a holding/leverage point to make installation easier.
Yes, the eyebolt is removable and, depending on the application, should be removed to eliminate trip hazards.
Yes, the Ultra-Drain Plug is reusable provided that it has not been exposed to a chemical that has caused any degradation.
The Ultra-Drain Plug is made with urethane and will degrade/break down in extended UV exposure. It is recommended that drain plugs only be exposed for as long as required to contain and clean-up a spill. Long-term outdoor use is not recommended.
Typically, a standard soap and water mixture is all that is needed to clean the Ultra-Drain Plug. Once it has been cleaned it should be allowed to air dry and then returned to its original packaging.
The Ultra-Drain Plug should be stored in a cool, dry area in the box that it is shipped in.
'NR' stands for 'Not Recommended'. HOWEVER, it is worth noting that most chemical compatibility guides (ours included) are based on a one-year immersion test. In other words, the material being tested is completely immersed in the chemical in question. After one year, the material is removed and checked for any degradation. Needless to say, a spill response product is not going to be exposed to a chemical for a year. So it's possible that the Ultra-Drain Plug will be effective against a spill of a chemical that is listed as 'NR'. The best way to know for sure is to test for yourself. Please contact our customer service team and they will be able to send you a no-charge sample.
Helps Comply with These Rules & Regulations
ADA Accessibility Guidelines for Buildings and Facilities (ADAAG)
Stormwater Management Regulation 40 CFR 122.26
EPA Hazardous Waste Discharges 40 CFR 263.30
Additional Product Information
Uniform Product Codes (UPCs)
UPC 808416021134

 

Ultra-Drain Plug For 2" Drain (Part #2113)
UPC 808416021141

 

Ultra-Drain Plug For 3" Drain (Part #2114)
UPC 808416021158

 

Ultra-Drain Plug For 4" Drain (Part #2115)
UPC 808416021172

 

Ultra-Drain Plug For 6" Drain (Part #2117)
UPC 808416021189

 

Ultra-Drain Plug For 8" Drain (Part #2118)
UPC 808416021196

 

Ultra-Drain Plug For 10" Drain (Part #2119)
UPC 808416021219

 

Ultra-Drain Plug For 12" Drain (Part #2121)