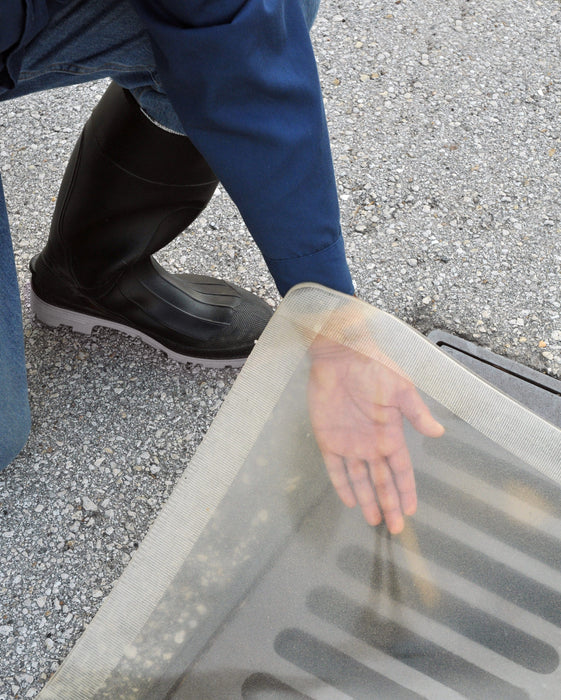 Ultra-Drain Seal Clear Model - Part #2205
Original price
$870.10
-
Original price
$870.10
Frequently Asked Questions
The Ultra-Drain Seal is made with urethane and will degrade/break down in extended UV exposure. It is recommended that drain seals only be exposed for as long as required to contain and clean-up a spill. Long-term outdoor use is not recommended.
It is not recommended that the Ultra-Drain Seal be driven over under any circumstances. The softer nature of the material can be damaged under vehicle tires and other equipment.
Typically, a standard soap and water mixture is all that is needed to clean the Ultra-Drain Seal. Once it has been cleaned it should be allowed to air dry and then returned to its original packaging.
Yes, the Ultra-Drain Seal is reusable provided that it has not been exposed to a chemical that has caused any degradation.
The Ultra-Drain Seal has reinforced tear-resistant mesh "sandwiched" between layers of urethane, cutting it is NOT recommended as it may cause the unit to delaminate.
Yes, custom shapes and sizes are available. Please contact our customer service department for more information.
For best results, use an Ultra-Drain Seal that is at least 6" larger than the outside of the grate.
The Ultra-Drain Seal should be stored in a cool, dry area in the box that it is shipped in. Optional hard-plastic carrying cases that can be wall mounted or truck mounted are also available. It is important that the Ultra-Drain Seal does not touch itself because, over time, the touching areas will fuse together. This can be prevented by using the cardboard tube and plastic sheeting each unit is shipped in.
'NR' stands for 'Not Recommended'. HOWEVER, it is worth noting that most chemical compatibility guides (ours included) are based on a one-year immersion test. In other words, the material being tested is completely immersed in the chemical in question. After one year, the material is removed and checked for any degradation. Needless to say, a spill response product is not going to be exposed to a chemical for a year. So it's possible that the Ultra-Drain Seal will be effective against a spill of a chemical that is listed as 'NR'. The best way to know for sure is to test for yourself. Please contact our customer service team and they will be able to send you a no-charge sample.
More Info / Downloads
Helps Comply with These Rules & Regulations
ADA Accessibility Guidelines for Buildings and Facilities (ADAAG)
Stormwater Management Regulation 40 CFR 122.26
EPA Hazardous Waste Discharges 40 CFR 263.30
Additional Product Information
Uniform Product Codes (UPCs)
UPC 808416022001

 

Ultra-Drain Seal Clear Model (Part #2200)
UPC 808416022018

 

Ultra-Drain Seal Clear Model (Part #2201)
UPC 808416022025

 

Ultra-Drain Seal Clear Model (Part #2202)
UPC 808416022032

 

Ultra-Drain Seal Clear Model (Part #2203)
UPC 808416022049

 

Ultra-Drain Seal Clear Model (Part #2204)
UPC 808416022056

 

Ultra-Drain Seal Clear Model (Part #2205)
UPC 808416022063

 

Ultra-Drain Seal Clear Model (Part #2206)
UPC 808416022070

 

Ultra-Drain Seal Clear Model (Part #2207)
UPC 808416022087

 

Ultra-Drain Seal Clear Model (Part #2208)
UPC 808416022094

 

Ultra-Drain Seal Clear Model (Part #2209)
UPC 808416022100

 

Ultra-Drain Seal Clear Model (Part #2210)
UPC 808416022117

 

Ultra-Drain Seal Clear Model (Part #2211)