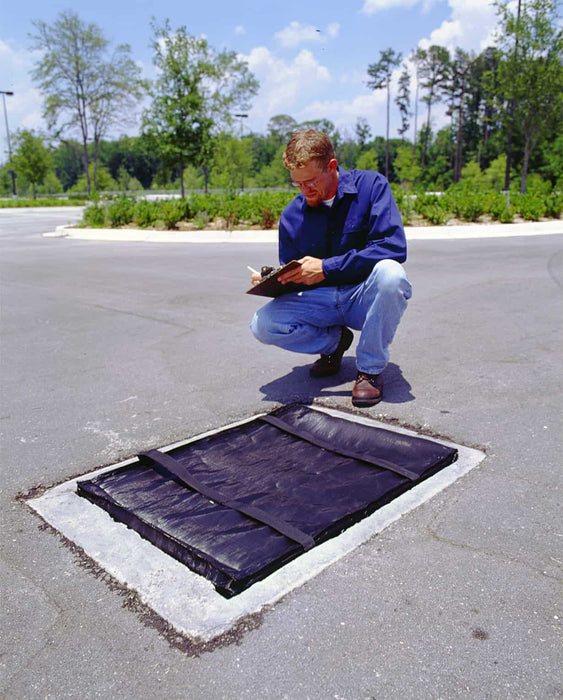 Ultra-Grate Guard Sediment Only Model - Part #9274-SED
Original price
$92.40
-
Original price
$92.40
Frequently Asked Questions
One advantage that the Ultra-Grate Guard has over some of the other product is that once it is installed, there really is no need to lift the grate again (unless the unit needs to be completely removed for some reason). Any sediment, dirt, sand, trash or debris will remain at street level and is easily cleaned up / removed.
If aesthetics is a significant requirement for your catch basin area (ex: shopping centers, commercial districts, entertainment areas), the Ultra-Grate Guard may not be the best solution. Since the black fabric is very clearly visible when the unit is installed, an "under the grate" product may be a better choice.
Usually, the most challenging part of installing an Ultra-Grate Guard is handling the grate. Depending on the region and the application for that particular drain, the grate can be quite heavy. Please be sure to use proper handling and safety equipment. The actual installation of the Ultra-Grate Guard is quite simple. One end of the unit has a flap that is secured shut with hook and loop fasteners. Pull that flap open, stand the grate on its edge and slide the Ultra-Grate Guard over it. Close the flap, then carefully lower the Ultra-Grate Guard (with the grating inside) back down onto the catch basin. Built-in lifting straps will help with this step.
The two models of Ultra-Grate Guard are essentially the same. The only difference is that the oil & sediment model has a built-in pouch that is used to house a piece of Ultra-Filter-Tex oil-absorbing material. The piece of Ultra-Filter-Tex is roughly the same dimensions (length and width) as the Ultra-Grate Guard.
Ultra-Filter-Tex removes oil and other hydrocarbons much faster than traditional absorbents. A polypropylene sorbent material will not allow water to freely pass through it. Oil will absorb at the surface of a polypropylene absorbent, and the polypropylene will eventually blind over and the center will not absorb any oil.
The Ultra-Inlet Guard may be a good alternative as it similarly keeps pollutants at street-level. Check out the Path to the Perfect Product to see what other products might be a good option.
This product may not address any specific regulations but if you have any questions, we're here to help.
Stormwater Management Regulation 40 CFR 122.26
National Pollutant Discharge Elimination System (NPDES)
Total Maximum Daily Load (TMDL)
Additional Product Information
Uniform Product Codes (UPCs)
UPC 808416092684 Ultra-Grate Guard Sediment Only Model (Part #9272-SED)
UPC 808416092646 Ultra-Grate Guard Sediment Only Model (Part #9276-SED)
UPC 808416005592 Ultra-Grate Guard Sediment Only Model (Part #9278-SED)
UPC Ultra-Grate Guard Oil & Sediment Model (Part #9272-O/S)
UPC 808416092769 Ultra-Grate Guard Oil & Sediment Model (Part #9276-OS)
UPC 808416092783 Ultra-Grate Guard Oil & Sediment Model (Part #9278-OS)