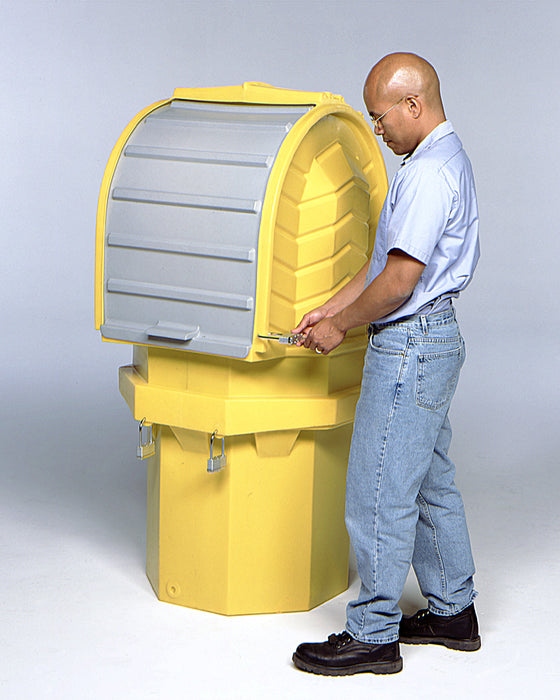 Ultra-Hard Top P1 Plus Without Drain - Part #9640
Original price
$618.20
-
Original price
$618.20
Frequently Asked Questions
The Ultra-Hard Top P1 Plus is rotationally molded using low-density polyethylene.
Yes, the Ultra-Hard Top P1 Plus is lockable to prevent unauthorized access. There are three points that will require padlocks or zip ties (two to secure the top section to the bottom section and one to lock the roll top).
Yes, as with all UltraTech products that are rotomolded, the Ultra-Hard Top P1 Plus is made with "built-in" UV protection so that it will have a long outdoor service life.
An Ultra-Drum Lifter or some other drum handling equipment will be required to lift the drum and lower it into the containment sump.
Yes, the hard top can be moved in one of two ways: (1) it can be forklifted under the "shoulder" of the containment sump (2) the optional dolly – Part# 0417
No, the spill pallet is not completely waterproof. It is more accurately described as weatherproof. In other words, in standard weather conditions, your drums and/or containers should be protected and water gathering in the pallets is not a concern. However, during very gusty conditions or very heavy rainfall, some water may get into the unit. It is good practice to inspect the interior of the hard top after any severe weather.
The Ultra-Hard Top P1 Plus can contain up to 70 gallons (265 L).
The Ultra-Hard Top P1 Plus can handle uniformly distributed loads of up to 800 lbs. (363 Kg).
The Ultra-Hard Top P2 Plus provides outdoor spill containment for up to two drums so if there's a possibility of a second drum needing containment in the same area, that would be a good solution.
More Info / Downloads
Helps Comply with These Rules & Regulations
EPA Container Storage Regulation 40 CFR 264.175

Stormwater Management Regulation 40 CFR 122.26

International Fire Code (IF) 5004.2.3
Additional Product Information
Uniform Product Codes (UPCs)
UPC 808416096408

 

Ultra-Hard Top P1 Plus Without Drain (Part #9640)
UPC 808416096415

 

Ultra-Hard Top P1 Plus With Drain (Part #9641)