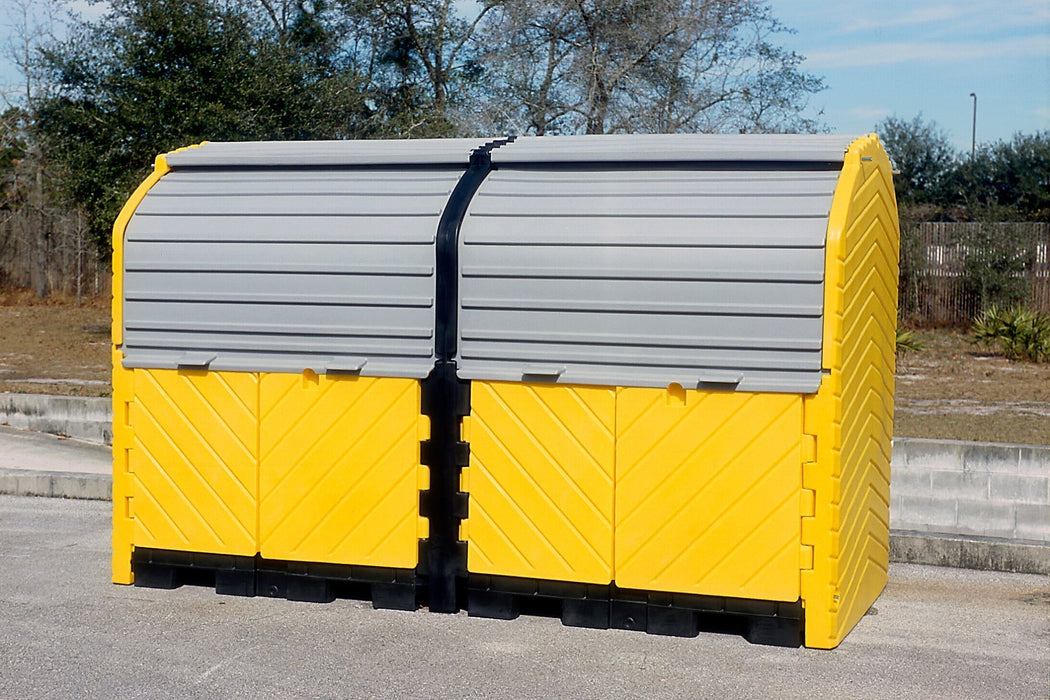 Ultra-Hard Top P12 Plus Model With Drain - Part #9653
Original price
$8,178.50
-
Original price
$8,178.50
Frequently Asked Questions
Yes, the dual closure system (roll top door and swing out doors) is on both sides of the unit to provide complete access to all drums stored inside.
A ramp is not included, but there is one available as an option (p/n 0676).
The Ultra-Hard Tops are made of polyethylene (LLDPE) so in the event of a fire the units will melt. It is not intended to be used in place of a safety cabinet.
No, the hard top is not completely waterproof. It is more accurately described as weatherproof. In other words, in standard weather conditions, your drums and/or containers should be protected and water gathering in the pallets is not a concern. However, during very gusty conditions or very heavy rainfall, some water may get into the unit. It is good practice to inspect the interior of the hard top after any severe weather.
Yes, there is enough room inside of the hard top for four drums and the ramp.
At its peak (the top is sloped) the height is 62", the inside width is 52", and inside length is 52".
The extender kits are used to expand your current system so that you can store more drums. When you order a kit, you will receive a spill pallet, a black connecting wall, as well as two sets of roll-top doors and swing out doors.
No, unlike some of our products, there are no bulkhead fittings connecting the sumps. Each "compartment" has its own separate, 75-gallon containment capacity.
The Ultra-Hard Top Plus Models ship partially unassembled to save on freight costs. Final assembly will be required upon delivery.
No, we do not recommend moving loaded hard tops.
UltraTech's general response to this question is at least ten (10) years. You can expect longer, but the actual life is dependent on several factors. UltraTech has been making outdoor spill containment products since 1993. We have a good sense of realistic life expectancy based on all those years of experience. UltraTech uses the highest-rated UV package in the resin formulation it uses to create the longest outdoor life available for a PE product.
The most important environmental factors are ultraviolet exposure and chemical exposure. In the absence of chemical compatibility concerns (determined by the UltraTech compatibility chart for PE products), the next most important factor for outdoor, polyethylene spill containment products will be ultraviolet irradiation (UV) exposure. The most important factors with reference to UV are thickness, UV Inhibitor (UVI) content, and pigment color, type, and concentration. Ultraviolet irradiation exposure causes molecular structure and bond changes that result in the embrittlement of PE. Very thin PE can become brittle and fracture in less than a year (think contractor's PE Visqueen sheeting). Thicker parts take longer to break down. The addition of UV Inhibitors to the PE allows it to sustain more UV exposure without breaking down. Darker pigments, inorganic pigments, and higher concentrations of pigments also individually and collectively will give PE a longer life before appreciable UV damage occurs.
There is an outdoor spill containment product that has been in use in northeast Florida since 1986 and is still in active use today. UltraTech suggests its Ultra-Track Pans, used for outdoor railroad track spill containment, have a minimum of a twenty-year life.
More Info / Downloads
Helps Comply with These Rules & Regulations
EPA Container Storage Regulation 40 CFR 264.175

Stormwater Management Regulation 40 CFR 122.26

International Fire Code (IF) 5004.2.3
Additional Product Information
Uniform Product Codes (UPCs)
UPC 808416096507

 

Ultra-Hard Top Plus Models P8, Without Drain (Part #9650)
UPC 808416096514

 

Ultra-Hard Top Plus Models P8, With Drain (Part #9651)
UPC 808416096521

 

Ultra-Hard Top Plus Models P12, Without Drain (Part #9652)
UPC 808416096538

 

Ultra-Hard Top Plus Models P12, With Drain (Part #9653)
UPC 808416096545

 

Ultra-Hard Top Plus Models P16, Without Drain (Part #9654)
UPC 808416096552

 

Ultra-Hard Top Plus Models P16, With Drain (Part #9655)
UPC 808416096569

 

Ultra-Hard Top Plus Models P20, Without Drain (Part #9656)
UPC 808416096576

 

Ultra-Hard Top Plus Models P20, With Drain (Part #9657)
UPC 808416096583

 

Ultra-Hard Top Plus Models Extender Kit, Without Drain (Part #9658)
UPC 808416096590

 

Ultra-Hard Top Plus Models Extender Kit, With Drain (Part #9659)