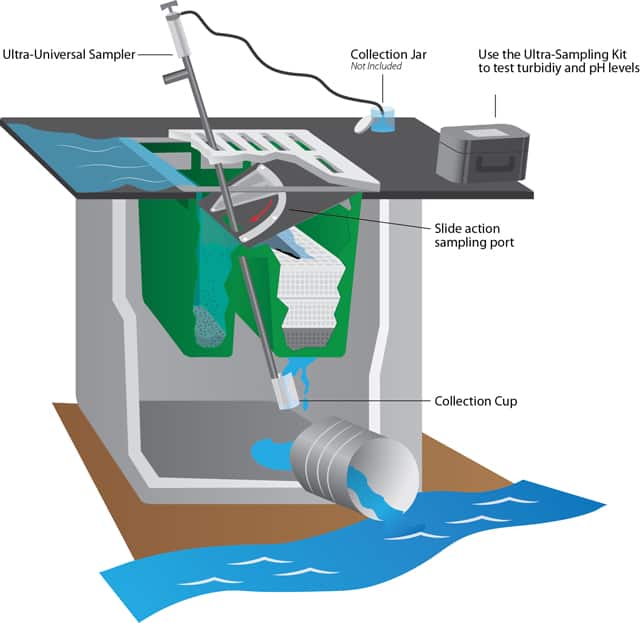 Ultra-Hydrokleen Flat Frame Model- Part #9875
Original price
$3,276.90
-
Original price
$3,276.90
Frequently Asked Questions
The Ultra-HydroKleen is designed to fit up to three filters.
The order will depend on the concentration of the pollutants in the water and may require some experimentation to get the best results. Typically, if an activated carbon filter is used, it will be the last filter media before the water exits the Ultra-HydroKleen as it is a "polishing" media.
Yes, a sampling option is available that will allow "post-treatment" samples to be taken. The sampling option is part number 9876 and MUST be ordered with the Ultra-HydroKleen (it cannot be installed as a retrofit).
The body of the Ultra-HydroKleen is 15″ x 19″ and 19″ deep.
Yes, but the diameter of the drain opening within the ledge that the grate sits (X2) will need to be at least 26". This is because the rectangular bottom portion of the Hydrokleen is 15"x19" and the widest part of the shell would be approximately 24.2" wide. A 26" diameter would allow the unit to fit comfortably within the catch basin.
This will depend on the location of the unit and will vary for each Ultra-HydroKleen. We recommend an inspection after the first rainfall to get an idea of what the pollutant load is for that particular drain. Periodic inspections and water testing will help determine the efficiency of each filter and when replacements are necessary.
Sediment, silt, sand, and dirt can be scooped out of the HydroKleen's chamber or, for complete removal, the entire Ultra-HydroKleen can be removed from the catch basin and hosed out.
Initially, the process is just like any other product, it is ordered through one of our distributors. But once we receive that order we will coordinate with your distributor to get more information on the catch basin that the Ultra-HydroKleen will be installed in. We will need to get the measurement instructions and filter media selection forms completed and returned to us. Because of the customization of this product, there is a lead time involved. Once all the information is provided we will be able to provide you with an estimated lead time.
Helps Comply with These Rules & Regulations
EPA Container Storage Regulation 40 CFR 264.175

Stormwater Management Regulation 40 CFR 122.26

International Fire Code (IF) 5004.2.3
Additional Product Information
Uniform Product Codes (UPCs)
UPC 808416098709

 

Ultra-Hydrokleen Flat Frame Model (Part #9870)
UPC 808416098716

 

Ultra-Hydrokleen Flat Frame Model (Part #9871)
UPC 808416098723 Ultra-Hydrokleen Flat Frame Model (Part #9872)
UPC 808416098730 Ultra-Hydrokleen Flat Frame Model (Part #9873)
UPC 808416098747 Ultra-Hydrokleen Flat Frame Model (Part #9874)
UPC 808416098754 Ultra-Hydrokleen Flat Frame Model (Part #9875)