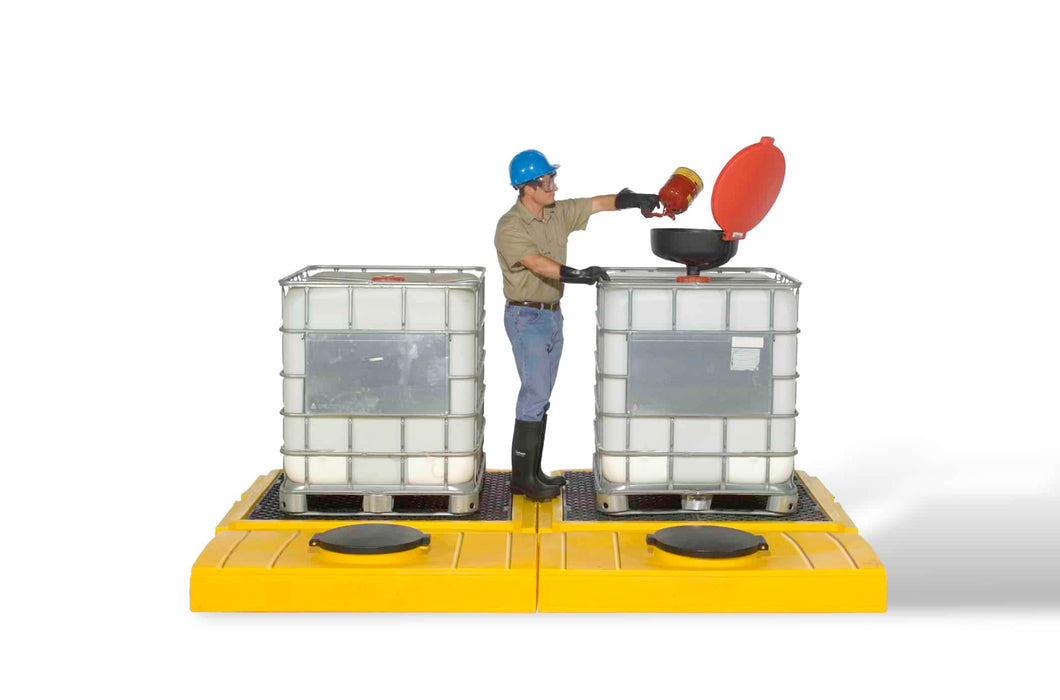 Ultra-Modular IBC Spill Pallet 4-Tank Model - Part #1127
Original price
$3,344.00
-
Original price
$3,344.00
Frequently Asked Questions
If you have one or two IBCs or you have IBCs in multiple locations around your facility, you wouldn't. If that were the case, you would use the Ultra-IBC Spill Pallet or the Ultra-IBC Spill Pallet Plus. Where the use of the Ultra-Modular IBC Spill Pallet becomes advantageous is when 3 or more IBCs are kept in the same area. By connecting the pallets together along with the expansion tanks, the systems will meet the EPA and SPCC spill containment requirements at a height significantly lower than any other IBC spill pallet on the market.
The sole purpose of the expansion tank is to add containment capacity to the system. Each tank gets connected to the system of spill pallets via bulkhead fittings and adds 65 gallons of containment.
The answer to this question is dependent on the system that is being used and more specifically, the capacity of that system. A general rule of thumb would be that the largest IBC you could store on the system could not exceed the system's capacity. Please keep in mind that this rule of thumb would keep you in compliance with the EPA's requirements. State and local regulations can be more stringent and require more capacity. Please check with your local authorities to ensure compliance.
The total capacity of the 5-tank system is 375 gallons. Therefore, you would be in compliance with the EPA spill containment regulations assuming that none of your IBCs have a capacity greater than 375 gallons.
The pallet has a 9,000 lb. capacity. This is for uniformly distributed loads. An IBC that is supported by pedestal post or feet focuses all of its weight on those feet. If the dimensions of those feet are not large enough to properly displace the weight on the spill Pallet's grating, it could be an issue. As a precaution, steel plates (at least 12″ x 12″) can be used under the feet in order to more evenly distribute the weight over a greater area. If you have any concerns about your IBCs weight, please contact us at 800-353-1611 / 904-292-1611.
Helps Comply with These Rules & Regulations
EPA Container Storage Regulation 40 CFR 264.175

Spill Prevention, Control and Countermeasure Act (SPCC) 40 CFR 112
Additional Product Information
Uniform Product Codes (UPCs)
UPC 808416011272

 

Ultra-Modular IBC Spill Pallet 4-Tank Model (Part #1127)