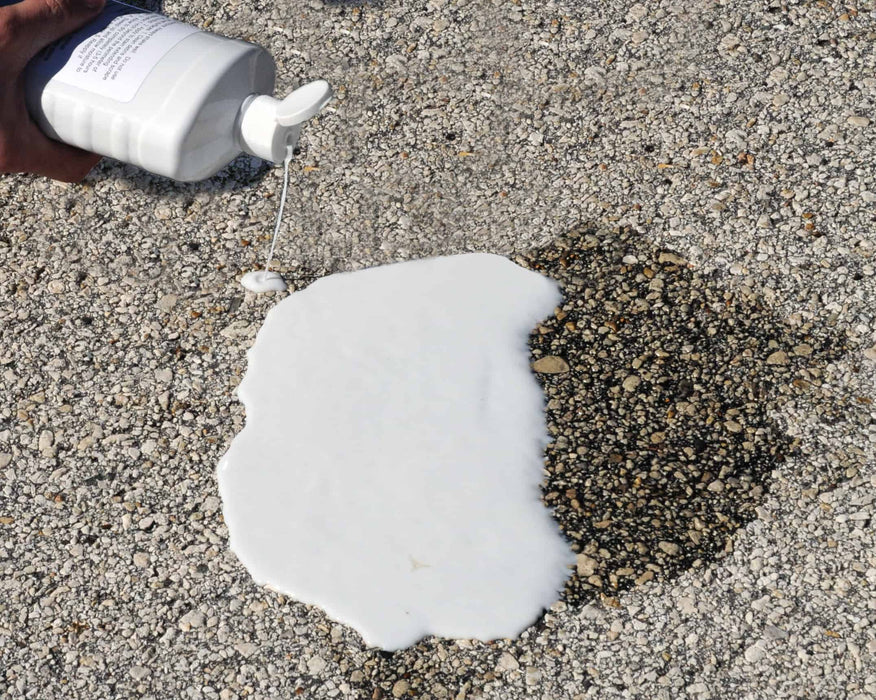 Ultra-Oil Stain Remover
Original price
$18.00
-
Original price
$131.40
Ultra-Oil Stain Remover
| Part # | Color | Size | Metric | Cat. Pg. | Tare Weight | UPS | Freight Class |
| --- | --- | --- | --- | --- | --- | --- | --- |
| 5236 | | | .47 L | 51 | 1.25 | Y | 55 |
| 5226 | | | .47 L | 51 | 10 | Y | 70 |
| 5237 | | | .95 L | 51 | 2.33 | Y | 55 |
| 5227 | | | .95 L | 51 | 14 | Y | 70 |
Frequently Asked Questions
Yes, Ultra-Oil Stain Remover is citrus-based and biodegradable.
The time it takes to remove an oil stain is dependent on how big (deep) the stain is. For stains that have "soaked in" over a period of time, it could take several applications before it is completely removed.
Any excess oil should be wiped up before pouring the Ultra-Oil Stain Remover. Other than that, no prep is required.
Ultra-Oil Stain Remover can be used on concrete (sealed or unsealed), asphalt, brick, carpet and other types of flooring. We recommend testing in a small, inconspicuous area to ensure compatibility.
More Info / Downloads
There aren't many questions regarding this product right now, but we're here to help if you have any!
Helps Comply with These Rules & Regulations
EPA Hazardous Waste Discharges 40 CFR 263.30
Additional Product Information
Uniform Product Codes (UPCs)
UPC 808416052367

 

Ultra-Oil Stain Remover 16 oz. (Part #5236)
UPC 808416052268

 

Ultra-Oil Stain Remover 16 oz. (Part #5226)
UPC 808416052374

 

Ultra-Oil Stain Remover 32 oz. (Part #5237)