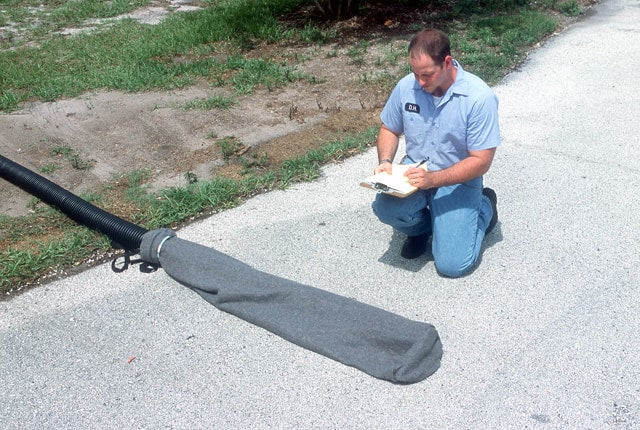 Ultra-Pipe Sock Oil & Sediment Model - Part #9705-OS
Original price
$63.80
-
Original price
$63.80
Frequently Asked Questions
Ultra-Pipe Socks are made using a recycled material called Ultra-Filter-Tex.
Ultra-Filter-Tex is a high-performance, cost-effective absorbent that allows large volumes of water to pass through while sorbing liquid hydrocarbons, including petroleum, animal, and vegetable oils.
Ultra-Filter-Tex material is designed for the absorption of hydrocarbons and will not absorb synthetics.
The Ultra-Pipe Sock has straps that are attached to the sock itself. These straps can be tied around the pipe to secure it in place. Alternatively, a large hose clamp (not included) can be used.
The absorbing capacity is based on the size of the Pipe Sock: 8″ Dia. = 1.7 gal (6.4 L). 12″ Dia. = 2.6 gal (9.8 L). 16″ Dia. = 3.5 gal (13.2 L)
The Ultra-Pipe Sock could be considered to be a drainage sock or water sock, as both of these are generic terms used to describe products that filter stormwater being discharged from pipes. A different kind of drainage sock is one that slips onto corrugated pipes—such as french drains—and is buried with the pipe itself. The Ultra-Pipe Sock is designed to be attached to the end of a non-corrugated stormwater discharge pipe to filter sediment and hydrocarbons before it reaches our waterways.
The Ultra-Dewatering Bag is similar in function to the Ultra-Pipe Sock just on a larger scale.
Helps Comply with These Rules & Regulations
Stormwater Management Regulation 40 CFR 122.26
National Pollutant Discharge Elimination System (NPDES)
Additional Product Information
Uniform Product Codes (UPCs)
UPC 808416097054

 

Ultra-Pipe Sock Oil & Sediment Model (Part #9705-OS)