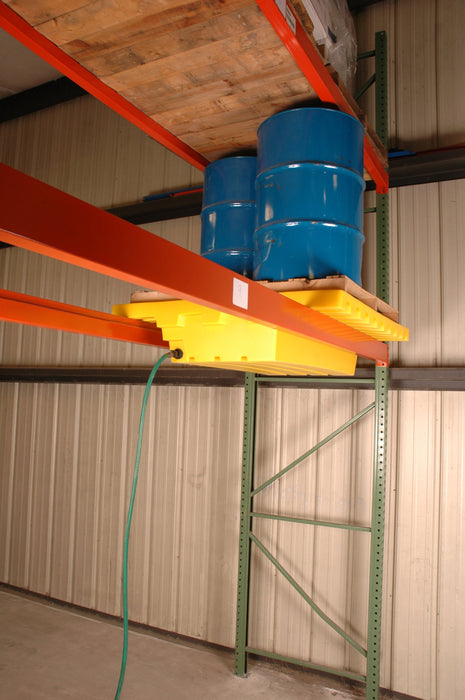 Ultra-Rack Sump With Drain - Part #2396
Original price
$617.10
-
Original price
$617.10
Frequently Asked Questions
The rack sump is heavy-duty and very sturdy but only weighs 50 lbs so it should be fairly easy to maneuver and load onto the racking system. A forklift or other handling equipment may be necessary depending on the location and height. Once the rack sump has been properly positioned, a standard wooden pallet loaded with the drums (up to four) can be placed on top.
The weight capacity is determined by the weight that the racking system can handle as that will be handling the load of the rack sump and the drums.
The rack sumps are 100% polyethylene (LLDPE) so they will not rust or corrode and they also provide excellent chemical resistance.
If you have the optional drain/ball valve assembly, simply connect a standard garden hose to it (make sure the other end is in an approved container) and then open the valve. If you do not have the optional drain/ball valve assembly, the process will be similar but will require a pump of some sort.
Up to 10 Ultra-Rack Sumps can ship on a single standard shipping pallet.
More Info / Downloads
This product may not address any specific regulations but if you have any questions, we're here to help.
EPA Container Storage Regulation 40 CFR 264.175
ADA Accessibility Guidelines for Buildings and Facilities (ADAAG)
Additional Product Information
Uniform Product Code
UPC 808416023961 Ultra-Rack Sump With Drain (Part #2396)