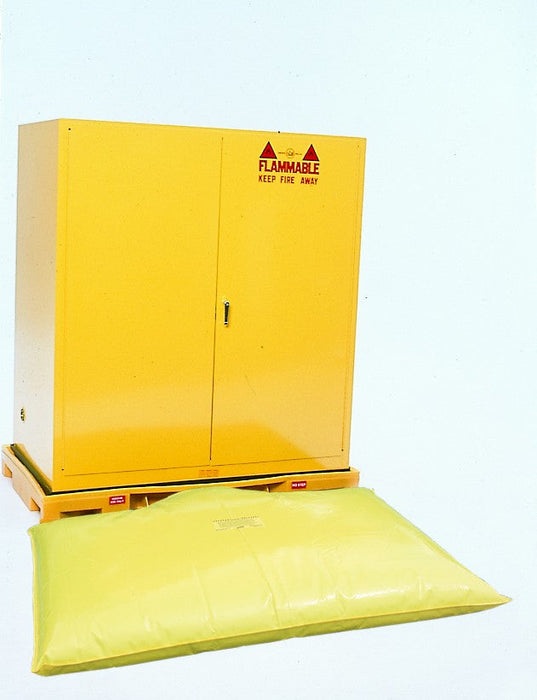 Ultra-Safety Cabinet Bladder Systems 2-Drum Model - Part #2421
Original price
$665.50
-
Original price
$665.50
Frequently Asked Questions
The safety cabinet is NOT included with our systems, only the containment portion which includes the yellow polyethylene (LLDPE) sump, the black steel frame to support the safety cabinet and the bladder attachment.
Years ago, we designed this product to fit every safety cabinet (designed to hold 1 or 2 55-gallon drums vertically) available at the time. However, it's a good idea to check the support frame dimensions listed in the table above and/or contact us.
The bladder adds 66 gallons of containment capacity to each safety cabinet bladder system.
Bladders are NOT reusable so once you've transferred the spilled liquid to an approved container and disposed of the used bladder, (in accordance with local and Federal regulations) you will need to install a new one.
The systems are easily moved by hand and light enough to be loaded onto a hand truck or dolly but are not designed to be lifted with a forklift or pallet jack.
The bladder(s) should be replaced for any of the following reasons: (1) It captures a spill (regardless of the size of the spill), (2) It deploys, rolls, or falls out of the bladder attachment housing. (3) It has sat unused for more than five years.
This product may not address any specific regulations but if you have any questions, we're here to help.
EPA Container Storage Regulation 40 CFR 264.175
ADA Accessibility Guidelines for Buildings and Facilities (ADAAG)
Additional Product Information
Uniform Product Codes (UPCs)
UPC 808416024203

 

Ultra-Safety Cabinet Bladder Systems 1-Drum Model (Part #2420)