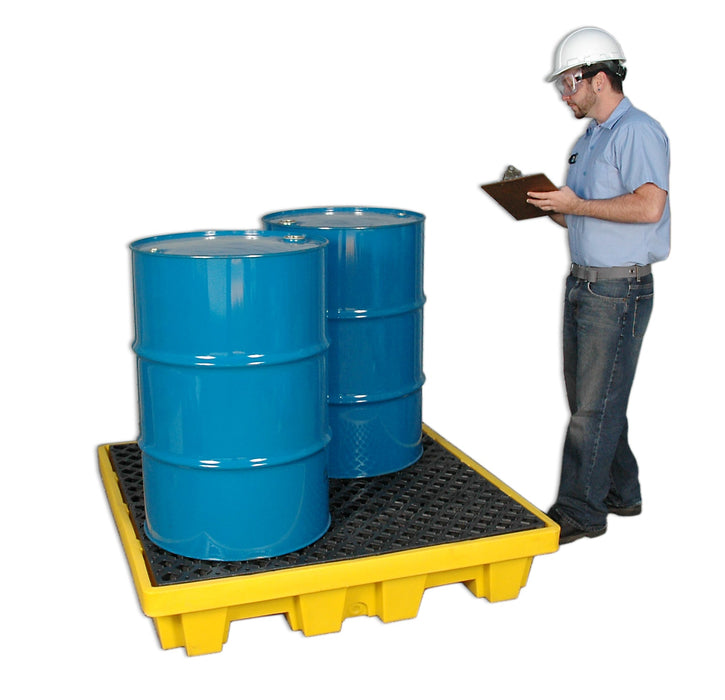 Ultra-Spill Pallet Nestable Model, With Drain - Part #1231
Original price
$563.20
-
Original price
$563.20
Frequently Asked Questions
The 4-drum model is forkliftable from all four sides. The 2-drum model is forkliftable from either of the two longer (53″) sides.
The P2 spill pallet is taller (16.5″) than the P4 spill pallet (11.75″). A ramp to reach that height would have to be fairly long in order to make a safe and effective slope. The cost to make such a large ramp is cost-prohibitive. If you are interested in a 2-drum pallet that has a ramp available, we suggest looking at the Spill Pallet Plus Models.
The EPA requirements (40 CFR 264.175) do call for 55-gallons. So the Ultra-Spill Pallets EXCEED those federal requirements. However, when these pallets were introduced to the market, there was another requirement in the Uniform Fire Code. That requirement is no longer in effect but called for a 66-gallon sump capacity.
Yes, there are two different ways that it can be done. Both are easy to do and inexpensive. Please contact us for more information.
Good arguments can be made for either option so it is difficult to give a single recommendation. Some users prefer to have a drain to make clean-up easier. If a spill occurs, the drain plug can be unscrewed and the contents can drain out into an appropriate container. Others feel that the drain plug is something that could be unscrewed (for cleaning or maintenance) and then forgotten. Needless to say, that would make for a very ineffective spill containment pallet.
We recommend using a pump like a bladder pump (Part# 2345) used with our Spill Deck Bladder Systems. Click here to see a video of it in action.
The Ultra-Spill Pallet P4 can be stacked up to eight (8) high. The Ultra-Spill Pallet P2 can be stacked up to six (6) high. Both are freight class 150 and NMFC 150390-4.
More Info / Downloads
Helps Comply with These Rules & Regulations
EPA Container Storage Regulation 40 CFR 264.175

ADA Accessibility Guidelines for Buildings and Facilities (ADAAG)