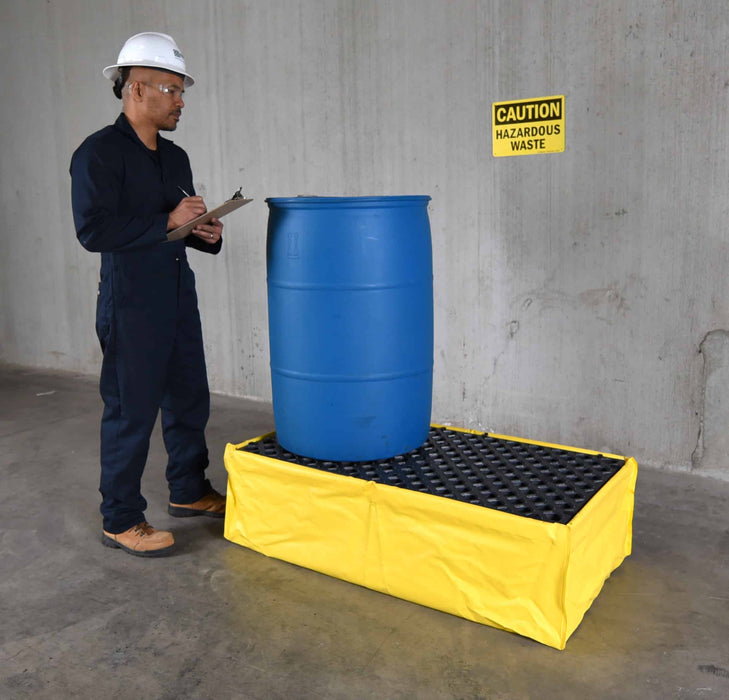 Ultra-Spill Pallet P4 Flexible Model, Without Drain - Part #1341
Original price
$405.90
-
Original price
$405.90
Frequently Asked Questions
It is one of the least expensive spill pallets in the UltraTech line. When disassembled, they are also the most compact package of all of UltraTech's spill pallets which is very beneficial with regards to shipping and storage.
Unlike UltraTech's other spill pallets, the flexible spill pallet's sump is dependent on a series of steel hooks that attach to the pallet's grating in order for the sidewalls to remain upright.
No, the flexible spill pallets do not have pockets to allow movement with forklifts, pallet jacks or other equipment.
No, we do not recommend moving loaded pallets.
The flexible model spill pallets are very durable. The 18 oz PVC material used for the sump is heavy-duty yet flexible. In some situations, it would be less likely to be damaged than our hard walled pallets since it has more "give."
A very sturdy, ribbed polyethylene (LLDPE) material is used to construct a support platform with interconnecting, load-bearing walls (see photo gallery).
The flexible spill pallet's sump is made with an 18 oz. PVC material which has excellent chemical compatibility. Specific chemicals should be confirmed using our compatibility guide.
Helps Comply with These Rules & Regulations
EPA Container Storage Regulation 40 CFR 264.175

Spill Prevention, Control and Countermeasure Act (SPCC) 40 CFR 112
Additional Product Information
UPC 808416013412

 

Ultra-Spill Pallet P4 Flexible Model, Without Drain (Part #1341)