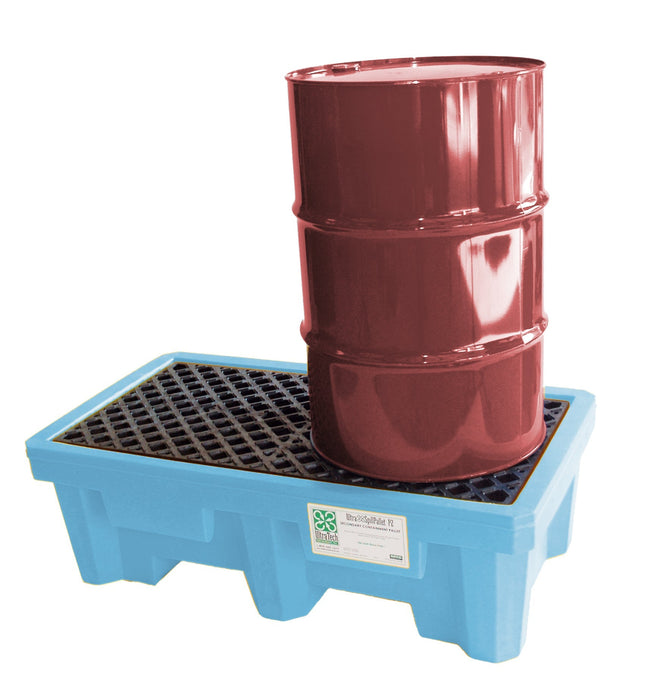 Ultra-Spill Pallet P4 Fluorinated & Nestable Model, Without Drain - Part #1233
Original price
$1,081.30
-
Original price
$1,081.30
Frequently Asked Questions
A RULE OF THUMB is that the fluorination of the Ultra-Spill Pallets will improve the rating on our compatibility guide by one letter. Please contact us with your specific chemical(s) if there is any question or concern.
No, the P2 and P4 Ultra-Spill Pallets are able to be moved/lifted with a forklift or pallet jack from two sides.
No, we do not recommend moving loaded pallets.
Yes, there are two different ways that it can be done. Both are easy to do and inexpensive. Please contact us for more information.
Good arguments can be made for either option so it is difficult to give a single recommendation. Some users prefer to have a drain to make clean-up easier. If a spill occurs, the drain plug can be unscrewed and the contents can drain out into an appropriate container. Others feel that the drain plug is something that could be unscrewed (for cleaning or maintenance) and then forgotten. Needless to say, that would make for a very ineffective spill containment pallet.
We recommend using a pump like the Bladder Pump (Part# 2345) used with our Ultra-Spill Deck Bladder Systems. Click here to see a video of it in action.
Helps Comply with These Rules & Regulations
EPA Container Storage Regulation 40 CFR 264.174

Spill Prevention, Control and Countermeasure Act (SPCC) 40 CFR 112
Additional Product Information
UPC 808416012330

 

Ultra-Spill Pallet P4 Fluorinated & Nestable Model, Without Drain (Part #1233)