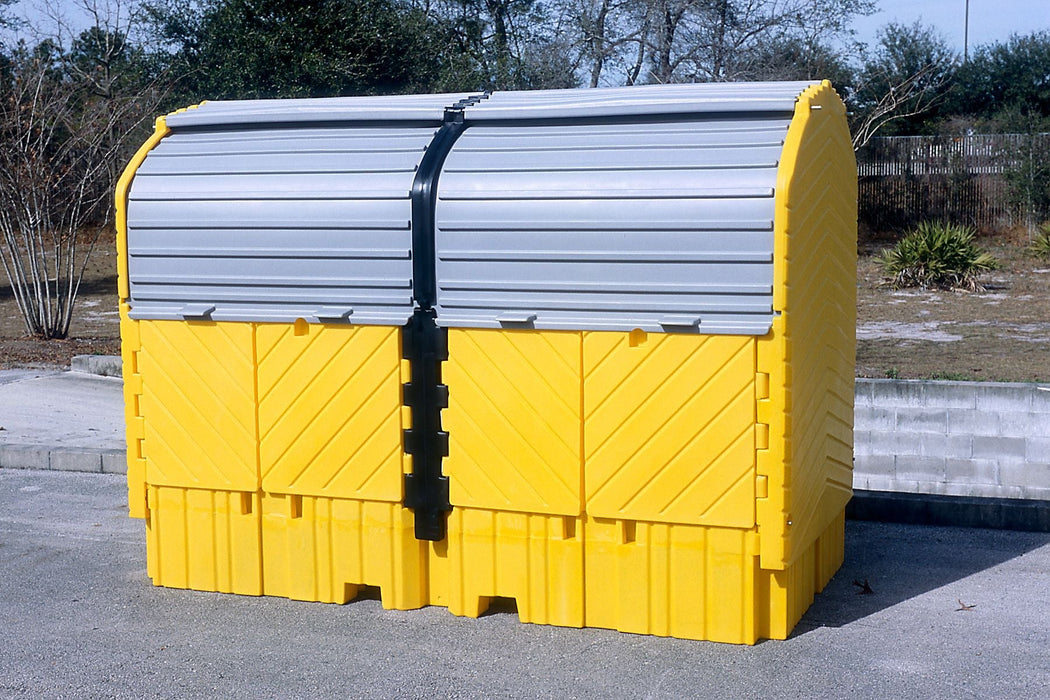 Ultra-Twin IBC Hard Top Spill Pallet With Drain - Part #1149
Original price
$6,024.70
-
Original price
$6,024.70
Frequently Asked Questions
The Ultra-Twin IBC Hard Top ships completely assembled and ready to go upon arrival. However, we can ship a disassembled unit to reduce shipping space. Please contact us for more information on this option.
The 535-gallon sump is continuous. In other words, a spill from one side will eventually make its way over to the other side. There is no barrier to separate the two sides. It is important to note that chemicals stored on the Ultra-Twin IBC Hard Top must be compatible.
No, the spill pallet is not completely waterproof. It is more accurately described as weatherproof. In other words, in standard weather conditions, your drums and/or containers should be protected and water gathering in the pallets is not a concern. However, during very gusty conditions or very heavy rainfall, some water may get into the unit. It is good practice to inspect the interior of the hard top after any severe weather.
No. IBCs, tanks, totes, drums and other items must be removed from the pallet surface prior to moving it.
Each side of the Ultra-Twin IBC Hard Top has a usable surface that is 52″ x 52″. This surface comprised of two removable grates that are each 26″ x 52″.
There is a single point where the top "rolltop" door meets with the bottom "swing-out" doors. Please note that each side of each compartment requires its own padlock. In other words, a total of four (4) padlocks are required to secure one Ultra-Twin IBC Hard Top.
There is a center wall that separates the two compartments.
The pallet has an 8,000 lb. per side capacity. This is for uniformly distributed loads. An IBC that is supported by pedestal post or feet focuses all of its weight on those feet. If the dimensions of those feet are not large enough to properly displace the weight on the spill pallet's grating, it could be an issue. As a precaution, steel plates (at least 12″ x 12″) can be used under the feet in order to more evenly distribute the weight over a greater area. If you have any concerns about your IBCs weight, please contact us at 800-353-1611 / 904-292-1611.
More Info / Downloads
Helps Comply with These Rules & Regulations
EPA Container Storage Regulation 40 CFR 264.175

ADA Accessibility Guidelines for Buildings and Facilities (ADAAG)
Additional Product Information
Uniform Product Codes (UPCs)